The following is a reprint of a previously published post. Ashley just published not one, but two books through her Lark Books Homemade Living Series titled Keeping Chickens With Ashley English: All You Need to Know to Care for a Happy, Healthy Flock and Canning and Preserving with Ashley English: All You Need to Know to Make Jams, Jellies, Pickles, Chutneys and More.
Enjoy!
Katy Wolk-Stanley
"Use it up, wear it out, make it do or do without"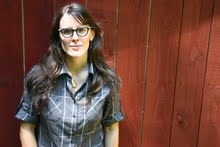 I went to a very small liberal arts college in Nowheresville, Ohio. There were just a few hundred students on campus at a time, yet somehow each and every one of us seems to have shown up on Facebook. This re-connecting has actually been quite interesting, as many of my past friends and acquaintances have gone on to lead very interesting lives. Television producers, writers, professors, music bigwigs and even a trophy wife or two.
One of my favorite reconnections has been with Glenn English, a man I hardly knew, yet he beats me soundly at online Scrabble on a regular basis. He is a Scrabble God.
A wonderful side affect of this relationship is that I discovered that Glenn's wife, Ashley English writes a wonderful blog called Small Measure. Ashley is:
Making an attempt to craft a good life in a small mountain community. I find pleasure in the light at dusk, atlases, hard cider, cat antics, dog breath, homemade ice cream and snorty laughter. I'm in the process of writing a series of books, entitled "Homemade Living," (Lark Books) about the ways people are reconnecting with their food and food communities and taking up sustainable food practices. I also host a weekly column every Friday on Design*Sponge:
Ashley writes about cooking, chicken tending, canning, gardening and bee keeping. But there's one feature of Small Measure that caught my eye, which is an occasional after-note where she suggests one small change to make. These little blog-lets are simple, yet very appealing.
Ashley, Thank you very much for sharing your Small Measures!
Small Measures:
*Small Measure: Find beauty where you are. It's everywhere, no matter where you're calling from (this post's title is based on a Raymond Carver short story as well as a collection of short stories by the same name; R.C. is an old favorite, a sort of Tom Waits literary kin).
*Small Measure: Plant flowers for bees! If you have access to some grass or lawn or even an abandoned lot, stoop, or balconey (even a median strip will do!), consider sowing some nectar-producing seeds for honeybees and other pollinators. They're particularly found of bee balm, mint, anise hyssop, borage, catmint, echinacea, buckwheat, yellow mustard, and basil. Bees get a source of food for transforming into honey, humans gain access to some amazing culinary and medicinal herbs-everyone wins!
*Small Measure: Play board games. Decidedly low-fi, board games are a great way to entertain groups of varying ages, political persuasions, and degrees of raucousness. Laughs are usually had, brains are usually given a workout, and allegiances are usually forged. Besides, on what other occasion might you witness your step-mother imitating Cosmo Kramer, your Pop humming "Hound Dog" (while gyrating, for, you know, emphasis), and your husband sculpting a television out of clay (Thank you, Cranium!)?
*Small Measure: Bring your own to-go containers. While I love the occasional Chinese or Mexican take-out, I don't so much love the styrofoam that such cuisine is sometimes packaged in for transit. So, instead, I schlep my own to-go containers in with me. Most restaurants will gladly accommodate the request to pack your victuals in any clean container you provide. Much like keeping canvas shopping bags in the car at all times, I keep metal Sigg containers on hand so that, should a sudden hankering for lomein hit, I'm prepared to cart away my food in a reusable vessel!
*Small Measure: Visit local farms. In fact, this weekend, the annual Family Farm Tour was happening. I had too much going on to attend, but we actually visited one of the participating farms during the Lavender Festival. Local farm visits, especially during Summer months, are fabulous ways to harvest produce at its peak, both nutritionally and flavor-wise.  Check out pickyourown for locations of local farms in your area.
*Small Measure: Wild forage! It's entirely possible to eat for free more often than you might think. Fruits that have fallen off the vine, berries growing determinedly in wild bramble, dandelion greens peeking through parking lot cracks, chickweed spreading itself along sidewalks-it's all there for the taking!
*Small Measure: Plant organic seeds. I opted for Johnny's and Territorial, as well as High Mowing. Heirloom company Bakers Creek is a perennial favorite as well (be forewarned-their catalogue is straight-up produce porn; you will want everything you see!). Purchasing organically provides you with a foundation of clean, healthy plants, ensures financial viability for organic producers, and promotes genetic diversity.
*Small Measure: Use biodegradable dog and cat waste bags.These break down over time and won't choke up the landfill. While the dogs don't have a need for these bags out here (the forest is pretty accepting), the cats' waste (we have 5!!!) goes into these bags, and then into a reserved pit in the back of the property to decompose. Good sources include Biobags and Four Paws.
*Small Measure: Sow the seeds you want to see in the world.I'm borrowing a bit liberally from Ghandi here, but I think he would approve. If you see something that needs to be done, hop to it!
*Small Measure: Eat a rainbow of colors at each meal. I realize that while this isn't always achievable, it's definitely goal-worthy. Different foods pack in different nutrients and eating a variety of hues at each meal goes far in offering an assortment of essential vitamins, nutrients, antioxidants, and phytonutrients. Plus, they make meals more visually arresting, and I think we could all use a bit more visual arrestment in our lives, no?
*Small Measure: Make slow purchases. Take your time when opting to bring something new into your home, whether it be an armchair, a drinking glass, a canister, or pillow. See what might already exist in your community. Find ways to repurpose items gathering dust in your basement, spare room, or nearby antique store. Check the local paper for estate sales and auctions (a riot of fun, especially here in the south-I mean, have you ever actually heard an auctioneer do their thing? It boggles the mind.) You could even simply rearrange your furniture if you're anxious for a quick, albeit "slow", fix, which my mom did ALL THE TIME when I was growing up. Whatever you do, just do it thoughtfully. Speed isn't everything. Like the Aesop fable "The Tortoise and the Hare" indicates, "slow and steady wins the race." Ready? Set? Mosey…..
*Small Measure: The best things in life are free. That's it, plain and simple. Hugs, kisses, a hummingbird's buzz, a wink from a strange old lady-no benjamins necessary.
*Small Measure: Grow something! It needn't be grandiose or even abundant. Start small if all you have is a windowsill. I once grew beans and tomatoes inside a 3rd floor apartment from the light provided by a skylight. Growing something yourself obviously shortens the transit necessary for foods to reach the table, but it also presents opportunities for eating foods at their peak of ripeness. Growing foods also forces you to slow down. Healthy growth takes time, patience, and love.
*Small Measure: Use cloth napkins. They're inherently more absorbent than their paper cousins, definitely more attractive, and don't need to be tossed in the garbage at the end of every feeding session. We keep a large range and use them at every meal. Once they become oil-stained, or have one too many enduring marinara streaks to be guest-worthy, I transition them to the kitchen cloth stash, which, in a similar fashion, I use instead of paper towels. Plus, they give you a polished edge, even if you're slurping up pizza in your jammies.
*Small Measure: Air dry your laundry. You don't need a backyard or a clothesline to showcase your business either. If you live in an apartment, simply throwing open the windows and spreading your garments over the backs of chairs or atop windowsills works splendidly. Country or suburban dwellers, well, you've got some room, no matter how diminutive, for even the most humble of taught lines to be hung. There's such easy comfort that comes from watching your things, mentionable and otherwise, blowing in the wind. Plus, it's good exercise, what with the bending over, pinning up, removing, and folding. As a bonus, you're saving money-a perk, no doubt, but definitely not the be all, end all. Clothespins up, pin onward!
*Small Measure: Carry a hankie (that's a handkerchief, for those of you not down with nasal cloth colloquialisms). 'Specially this time of year, when so many folks have colds. My dad has been a life-long proponent of the hankie. Of course, you'll need more than one, as they get pretty rank pretty fast, but hankies are a much sounder choice than kleenex, environmentally-speaking. Plus, there are some pretty cool ones out there, so, depending on your predilection, you could deposit your precious nasal knowledge into a camouflaged, John Deere, paisley (Pop's choice), or floral hankie. Allow the hankie to make a statement, about your environmental AND design choices.