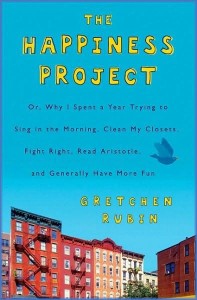 Congratulations to "Jennifer H" whose list of five things that made her happy won her a copy of Gretchen Rubin's The Happiness Project. And thank you to everyone who took the time to list your five things. Note that there no "my brand new this" or "my super expensive that."
Here's just a short list of what you said made you happy:
Jennifer H:
1. Homemade rhubarb-strawberry sauce
2. Taking a nap on the weekend
3. Having a great phone conversation with a friend
4. Rubbing my kitty's tummy
5. being married to my husband
Mrs. B:
1. My kids and I made it through homeschooling and we are still getting along.
2. My dear sweet husband who is there for me no matter what.
3. That my above husband and I have located our retirement home and have almost paid it off. We are just renting close to work for now.
4. That we will be officially retired in less than 7 years.
5. I was able to use leftovers to make dinner tonight and bake a couple of loaves of bread to go with it. Yum.
Leslie K:
1. Being genuinely surprised (in a good way) – by a book I knew nothing about, by a movie I had no expectations about, or by a friend's small act of kindness;
2. Grits & shrimp (together or separately);
3. when my kids still want me to give them backrubs;
4. silly poems my husband writes;
5. accomplishing things I've put off.
WM:
1) Biking in the just-warm-enough spring air.
2) Snuggling on a Saturday morning.
3) Leisurely weekend cooking. I made the Frugal Girl's pull apart garlic bread this weekend!
4) Snowshoeing in the sunshine.
5) Mountain Man.
Dawn:
1. The bus pulling up to my stop, especially on a miserably rainy day.
2. Reading a book that makes me want to stay up all night to finish.
3. Indulging in eating a plate lunch.
4. Finding a comfortable, almost new pair of Danskos at Goodwill.
5. Knowing I'm exactly right where I want to be.
Ame:
1. Cuddly husband bringing me coffee to wake me up on a Saturday morning.
2. Clear skin after a life of acne.
3. Rapidly approaching a debt-free life.
4. Brainstorming a fabulous new way to wear clothes I've had forever.
5. Sitting down to read in a clean, tidy home.
Connor:
1.Making my daughter laugh so hard she thinks she'll pee in her pants.
2. Being able to request books from the library over the internet.
3. Browsing at the Farmer's Market.
4. Movie nights with my daughter.
5. Using my old wooden salad bowl.
Beth C:
1. Curling up under a warm throw with the latest interlibrary loan or Paperback Swap delivery.
2. The way may husband can turn leftovers and stuff in our pantry into delectable creations such as ham and white bean soup.
3. The first bite into a gooey warm chocolate chip cookie.
4. Getting stuff accomplished in my day while allowing for some time spent puttering around.
5. Hugs.
Meghan:
1. Little green sprouts popping up in the garden
2. My newly decluttered living room and dining room
3. My daughter's sudden moments of overwhelming kindness
4. My cats (all eight of them!) and my stupid, lovable dog
5. Books, which are everywhere in our house.
Barb S:
1. Warm baths
2. Fresh clean sheets on a well-made bed
3. My kids' laughter
4. Baking
5. Staying in touch with old friends 

Jessica Wolk-Stanley:
1. Gardening with my 5-year old daughter.
2. Watching my son playing with his pals after school.
3. Doing dishes and listening to an audiobook and my hubster surprising me with a hug and a kiss.
4. Reading in bed.
5. Knitting, drawing, baking…just making things I guess.
6.I forgot to mention my most happy thing, which is exacting revenge on those who've done me wrong.
(Note from Katy — Yup. That's my sister!)
Click here to read everyone's happiness lists.
Katy Wolk-Stanley
"Use it up, wear it out, make it do or do without"