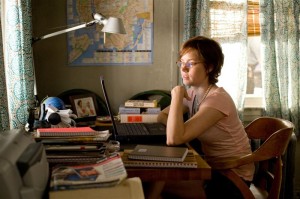 I finally watched the movie Julie and Julia last night, which has been #1 on my to-watch list for awhile now. And disappoint, it did not. Yummy food, successful bloggers and a hot husband. (Julie, not Julia.) What's not to love?
I especially liked how Julie was inundated with calls from literary agents and publishers after her piece ran in The NY Times. I had a similar experience after my interview in the NY Times, but it was one agent, not dozens and she lost interest in me after finding out that publishing houses are experiencing a glut of green/frugality book pitches.
Oh well . . . easy come, easy go.
I do still want to explore writing my own book some day, but with running a household, work, parenting and high puttering around needs, it would be hard to find the time.
Until then, I'll just enjoy all the other fabulous books out there, courtesy of my public library. And I'll just wait for all those Hollywood bigwigs who want to turn my blog into a movie. Might be a long wait.
Katy Wolk-Stanley
"Use it up, wear it out, make it do or do without"