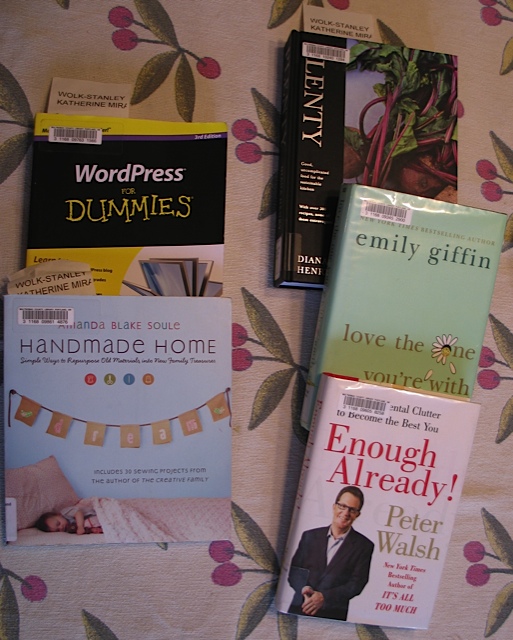 Sometimes I come across interesting snippets in my day that don't quite warrant their own column, but are still interesting in their own right. For example:
I passed by a neighbor while walking through the rain to the grocery store this afternoon. He was coming out of the wrong house, which I joked about. I saw this same neighbor later in the evening while picking the kids up from martial arts. He told me about how he and another family have a weekly meal exchange, and that he'd been dropping off dinner. Each family makes a double meal once a week, and in return receives a weekly meal. I think this is fan-freaking-tastic! Building community and getting somebody's else's cooking on a weekly basis? I have got to get in on the action.
I stopped into the main Goodwill today, although I found nothing to buy. I did manage to sneak into the book section, where I pulled out two different celebrity autobiographies and looked at the pictures. (Russell Brand and Greg Louganis.) I don't know what it is, but I just love looking at famous people's personal pictures and reading the captions. I love this activity so much that I was somewhat surprised when I looked up, as I had forgotten where I was. I shook the cobwebs off and drove myself over to the library, where my book induced trance was a little more appropriate.
I've really been enjoying widening my social circle lately, and as a result my latté budget is shooting through the roof. (Okay, it went from $0 per week to maybe $6 per week.) Today I took out the first host mom of the Japanese exchange teacher that we hosted from October to January. He had not been a good fit with our family, and I had her take him back. I've felt very bad about this, but after today's get together I am no longer carrying the guilt. I feel better. Definitely worth the budget-blasting latté!
Another reason to include the library in my day was that I had some rather wonderful books to pick up:
Handmade Home: Simple Ways to Repurpose Old Materials into New Family Traditions, by Amanda Blake Soule.
WordPress for Dummies, by Lisa Sabin-Wilson.
Enough Already: Clearing Mental Clutter to Become the Best You, by Peter Walsh.
Love the One You're With, by Emily Giffin.
Plenty: Good, Uncomplicated Food for the Sustainable Kitchen, by Diana Henry.
A rainy day, not a particularly accomplished day, but still, a good day.
Katy Wolk-Stanley
"Use it up, wear it out, make it do or do without"