Today is a Throwback Thursday blog post from May, 2011. Enjoy!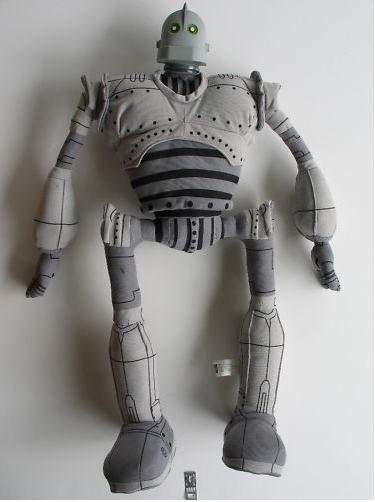 My son's Iron Giant toy just sold for $102.50 on eBay.
I have been somewhat cash poor lately. My day job as a labor and delivery nurse has been a bit sporadic of late, (C'mon suburban Portland ladies, surely a night of fun and games without birth control is worth it. Right?!) and as a result my paychecks have been lighter than a piece of space shuttle Wonder Bread. And as much as I hate not having a checking account cushion, I am not stressing. Why?
Because I know how to spend less money and how to earn more money.
Here's how my family spend less money this weekend:
Both my sons had soccer games over the weekend. We choose to have them play recreation soccer over classic soccer. This means a $45 playing fee rather than a $1000 fee.
I made pizza from scratch on Saturday night. This was partly due to a bag of shredded mozzarella cheese that I was worried was soon to get funky. I bought pepperoni and sausage from my local pizza joint, which set us back $1.
My younger son had a 24+ hour sleepover with an old friend. I rented them a movie from the Redbox near the house. I used a Groupon, which brought the price down to 33.34¢.
My older son had his girlfriend to the house all day Sunday. For dinner I made chicken adobo, using drumsticks, which are much cheaper than chicken breasts.
We drove nowhere except the soccer games, (for which we provided the carpool) and walked all our errands.
I took my younger son and his friend to the nearby nickel arcade. I used a coupon for free admission, which included $5 in nickels. I cautioned them to make the money last.
When it turned out that were at the arcade an hour before it opened, we walked over to the park where the boys played on the swings and had a contest about who could jump the farthest from their swing.
I made sure to return my marble reference book back to the library before it was due. This saves me 25¢ per day.
We did no recreational shopping, even to thrift stores.
Here's how we made more money:
I continued selling extra valuable belongings on eBay. I currently have the last of my Goodwill marbles for sale, which will end tonight. I also sold my son's Iron Giant stuffed robot for $102.50, (he gets to keep this money) and a stack of old Mary Engelbreit Home Companion magazines for $40.99.
I found $1.21 on the ground and in the change return slots at the arcade. I used part of this to pay off my 75¢ library fine.
I continued selling extra plants from my garden on my front steps. This may sound a bit meshugenah, but I made $1 yesterday, and when my younger son needed $10 cash for a haircut last week, I was able to grab some "plant money" to cover the cost. I estimate this little experiment has garnered $25.
My husband was a given a generous Starbucks gift card as a thank you for volunteering to coach the soccer team. He doesn't volunteer for the freebies, but parents will often give him small token gifts.
I blogged. I don't make a fortune with The Non-Consumer Advocate, but I did receive a Blogher check for $120.05 on Saturday.
None one of these frugal hacks will set you financially free, but the combination of everything together makes a huge difference in our lives.
Today, I will spend the day whipping the house into shape, dealing with a few Monday morning chores and maybe even planning a few more eBay listings. And hopefully, the scheduler at work will let me know that I've been granted a regular number of shifts for next month.
What are you doing to spend less and earn more? Please share your ideas in the comments section below.
Katy Wolk-Stanley