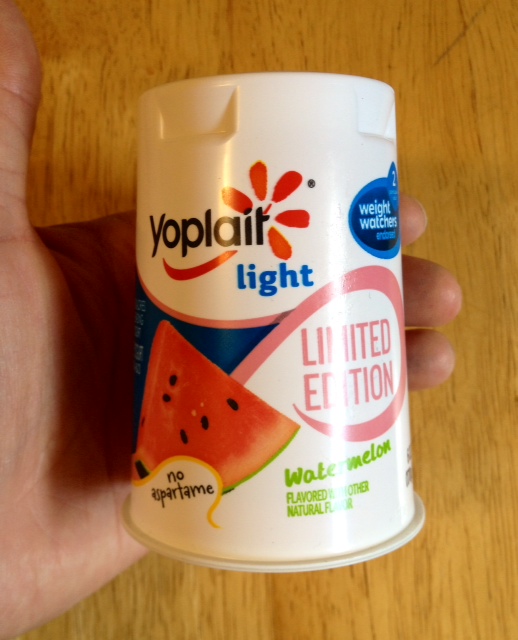 My older sister and I are dedicated non-wasters. We mend and repair, barely ever buy new and we watch our families' food waste like a hawk. This means that our refrigerators are ripe rife with many small containers of leftovers just waiting to be consumed. Sometimes those leftovers are in high demand, but often they aren't.
Need an example?
Leftover salad that's been marinating in salad dressing and is starting to lose its crispness.
Yeah . . . not so desirable.
However, the two of us joke about "taking one for the team," which boils down to eating something no other family member will in the name of food waste avoidance. And when we do, we call each other on the phone and announce that "I've taken one for the team."
Just today my sister announced that she'd eaten the last of some salad, while I countered that I'd eaten a watermelon flavored yogurt that had been sitting in my fridge since before I visited her in New York. (I bought it not noticing that it was "light yogurt" and artificially sweetened.)
Was that yogurt my favorite thing ever? Hardly. But it was okay, and it certainly did me no harm and functioned to sate my appetite.
I took one for the team.
Food waste is not only a huge waste of money, but is also an ethical issue when so many around the world and within our own communities do without.
If you're interested in learning about the farm-to-table-to-garbage-bin issues related to food waste, I highly recommend Jonathan Bloom's WastedFood.com blog. A fascinating subject we should all be familiar with.
C'mon, fellow non-consumers. Take one for the team.
Katy Wolk-Stanley
"Use it up, wear it out, make it do or do without."
Click HERE to follow The Non-Consumer Advocate on Twitter.
Click HERE to follow The Non-Consumer Advocate on Instagram.
Click HERE to join The Non-Consumer Advocate Facebook group.
Click HERE to follow The Non-Consumer Advocate on Pinterest.