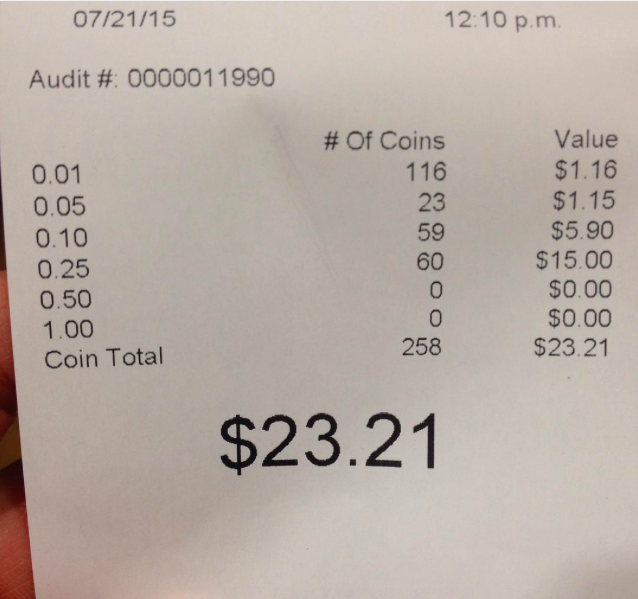 I cashed in my Found Change Challenge jar as we're gathering any and all available money to send our older son off to college. It contained $23.21 in coins plus $26 in bills, which added up to $49.21! Not quite enough to fund a year of college, but not a bad addition either.
I Craigslisted a small black and white striped rug that had been in my younger son's bedroom. I sold it for $15, even though I'd bought it years ago at Goodwill for only $10. It was replaced by one I pulled from a garbage can and shampooed back to life. Buy low, sell high, people.
My husband was given an extra ticket to tonight's Portland Thorns women's MLS soccer game. Our team includes a few members from the U.S. World Cup champions, and there will be a special ceremony at the game. I expect there will be many tears of happiness. (And not just because of free tickets.)
I checked out two books from the library today. Judy Blume's In The Unlikely Event and Dave Ramsey's Financial Peace Revisited. 
My son had a friend over this afternoon. I served home popped popcorn drizzled with honey butter and bottles of icy tap water. I also prepared a large quesadilla. Just because my sons are teenagers doesn't mean they require expensive and unhealthy junk food.
Now your turn. What frugal things have you been up to?
Katy Wolk-Stanley
"Use it up, wear it out, make it do or do without."
Click HERE to follow The Non-Consumer Advocate on Twitter.
Click HERE to follow The Non-Consumer Advocate on Instagram.
Click HERE to join The Non-Consumer Advocate Facebook group.
Click HERE to follow The Non-Consumer Advocate on Pinterest.