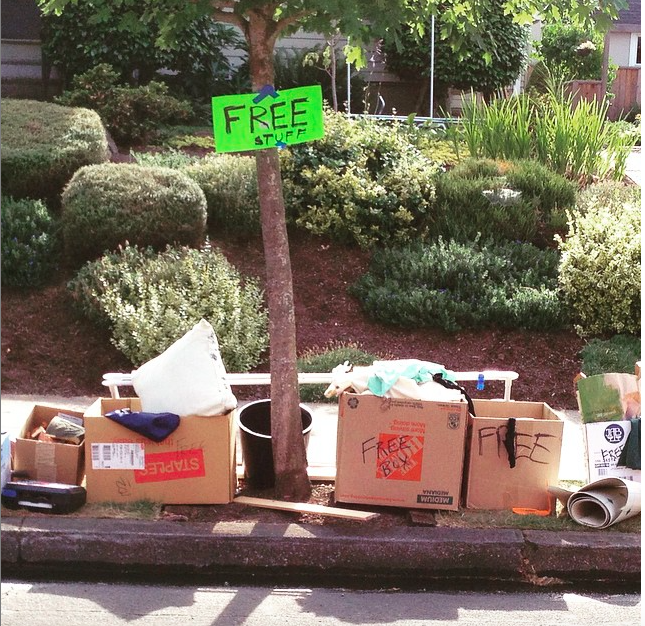 My "Five Frugal Things" posts often mention how I glean items from free piles and then turn around to sell them, and it's not uncommon for a reader or two to question this practice. This doesn't bother me, as it's usually prefaced with "I love your blog, but . . . "
Just yesterday, this comment came in on the blog:
"Love you and love your blog but sometimes wonder about the taking of free baby items from curb and selling them…wouldn't a mommy in need be better off with these things for free?"
I went ahead and wrote this reply:
There's no simple answer to this. I pick up free stuff, as I am desperately trying to scrounge up money for my kids to go to college, and I do it any way that I can. I'm not going through low income neighborhoods. These are mostly my parents' neighborhoods which are decidedly upper income, (especially my father's which is ridiculously wealthy. (My parents bought their house in 1969 for $20,000, but the area is straight-up rich people now!) ) These are people to whom making the effort to sort through old stuff to decide which consignment shop would be best; or to research, photograph and list on Craigslist would not be worth the effort.

It is worth my effort.

The baby toys and walker/activity table I brought home from free piles last week got sold to a grandmother whose daughter and granddaughter were about to come for a visit. I charged her $30. She did not have the time nor the inclination to keep an eye out for free stuff. She was just happy that I made this available with good pictures and descriptions on Craigslist. I could have charged more, but I like to create a bargain for the buyer.

I held out an adorable wooden inchworm for a friend who just had a baby, as I am not currently budgeting any money for gifts. This friend is a fan of the blog, and was tickled to hear that her gift was from a free pile.

In Portland, it's become part of the culture to put out unwanted stuff, and once that stuff goes to the new owner what that person does with it is their business.

Yesterday I took a rolled up Ikea rug from a garbage can in my father's neighborhood. There was construction debris out with the cans, which was also still usable. I'll vacuum and shampoo the rug and then sell it. This was definitely a situation where I will be saving something from the landfill.

I hope this explains my mindset on this issue.

Thank you for asking.
My husband and I just recently finished paying off his student loans from paramedic school. We've never had the financial wiggle room to fund anything close to proper college funds for our 17 and 19-year-old sons. So yes, I bring home other people's unwanted stuff to sell. I enjoy the challenge, and it fits in well with my days off from work when I'm otherwise taking care of the family and puttering around the house. I feel I have a gift when it comes to seeing potential in unloved items.
I also like to think of it as making things available for people who are looking for specific items.
Want a Cars-theme baby walker? Then drive aimlessly through a wealthy neighborhood.
Of course not!
But that Cars-theme baby walker was briefly available on Portland's Craiglist. Because I recognized the value, brought it home, cleaned it up, photographed it and wrote up a description.
I know this defense will not satisfy all my detractors, but that's okay. I'm Rumplestiltskin, and I spin straw into gold.
Katy Wolk-Stanley
"Use it up, wear it out, make it do or do without."