It's Monday, which means that it's time for another Non-Consumer Advocate giveaway. This week's prize is a hardback copy of A.J. Jacob's hilarious book "The Guinea Pig Diaries: My Life as an Experiment." (And yes, it is from Goodwill!)
To enter to win this book, write something in the comments section about your favorite non-fiction books and authors. Because Jacobs is hands down my go-to guy when it comes to funny, smart and entertaining non-fiction. I want to be him when I grow up, (even though I may actually be older than him.)
I will pick a winner on Tuesday, August 31st at midnight. Please enter only once, U.S. residents only.
I am reprinting my review of this book from last year. Enjoy and good luck!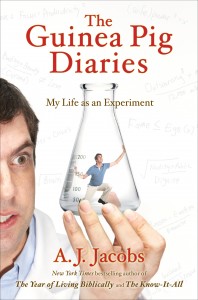 The end of the calendar year invariably brings out that side of us that wants to look back and make sense of life. How was this year different from others? Was there anything I should have done differently? And most importantly, (at least to the marketing gurus at Weight Watchers and Soloflex) how can I be better in the coming year?
How can I be a better person?
I just finished reading A.J. Jacobs' newest book "The Guinea Pig Diaries: My Life as an Experiment" which took over an entire evening and most of this morning. In this book, Jacobs throws himself into a number of experiences that run the gamut from outsourcing all the details of life to a company in India, to practicing "Radical Honesty." (Which saw him explain in all honesty to a female business colleague that he was trying for a sneak peek of her cleavage.)
I had read both of Jacob's other books, and become giddy with excitement when I found this new book at the bookstore. I immediately put it on hold at the library and had been waiting with bated breath ever since.
Although Jacobs writes with self-depreciating humor, he's not above making real and meaningful change as a result of his stunts, (And yes, they are stunts.) In the chapter when Jacobs, a father of three small boys writes about putting an end to multitasking, (he actually wears a sleep mask while on phone calls in order to cut down on possible distractions) he writes about how his focus on unitaskingaffected his interactions with his children:
His mission is to pour out all the coins and then put them back. Then repeat. His brothers are working on an equally important task: taking DVD's out of a drawer and putting them back.

Zane invites me to collaborate with him on this project.

"Help. Daddy!"

I clink a nickel into the slot.

"I'm here with my sons, putting nickels into a watermelon bank."

I say this sentence out loud, per the Bill Murry Method. I have three sons. They are healthy. They get pleasure from putting coins in a slot. I am overwhelmed with gratitude. Maybe it's the lingering effects of cold medication, but I start to choke up. A real "Cat's in the Cradle" moment.

Just outside my brain, three thousand things bark for my attention. My book deadline. Worries about the death of journalism. The invoice to the German magazine I forgot to send. But I've put up a soundproof wall. I'm going to put nickels in this watermelon with my son — and that's all I'm going to do.

It is the perfect undistracted ten minutes.
Yes, he's taking on these tasks for a book contract, but they leave their stamp on him nonetheless.
This genre of participatory journalism seems to be gaining steam. And I can't be the only one who snaps them up like fat free donuts at a dietetic police convention. Not Buying It, No Impact Man and Helping Me Help Myself quickly come to mind, and I'm sure I'm just skimming the surface.
So did I take any of Jacobs' lessons to heart?
It's hard to say, as I dedicated today to napping and laziness, (nonstop house guests from Christmas Eve until yesterday threw me for a loop!) but I do have to say that when my kids crawled into my nap-tastic bed this afternoon, I gave them my full and focused attention. No multitasking whatsoever. Which I believe does make me a better person.
Katy Wolk-Stanley
"Use it up, wear it out, make it do or do without."