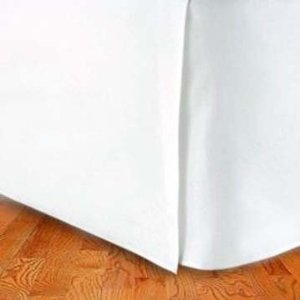 I went to a garage sale the other day and came across a cream colored bed skirt that was still pristine in the package. My husband and I switched over to a queen size bed last year, and frankly, the Hollywood frame is as dull as dirt. So I picked up the package, saw that it was unmarked and asked the owner the price.
"Oh, the bed skirt? I paid over $100 for that, so I'm looking to get $25 for it."
Riiight . . . .
And indeed there was a $170 price tag on the packaging.
She then asked me how much I wanted to pay. I explained that I was thinking more along the lines of $5, so I would have to pass on the bed skirt.
At this point the woman's friends started ribbing her for paying so much money for a bed skirt:
"How could you pay that much for a bed skirt? It's not like it even touches your skin!"
But the woman defended her purchase:
"But it matched all my bedding!"
This woman paid waay too much for her purchase, so she thinks it should continue to be worth a lot.
Guess again, lady.
Perceived value and actual garage sale value are not the same thing. Just because she paid $100+ for the bedskirt doesn't mean it's worth any more than a $30 bedskirt once it hits the garage sale market.
I did pick up a pair of pillowcases for a cool buck from her garage sale mate. And they look perfect with our green sheets.
Do you have a hard time getting rid of items that you overpaid for? Please share your thoughts in the comments section below.
Katy Wolk-Stanley
"Use it up, wear it out, make it do or do without"