Living in a house for an extended period often means that your decor efforts are less the spectacular before-an-afters and are more simply maintaining the projects you did awhile back.
Example? The paint in our master bedroom.
We had used up every last drip of paint when we last painted our bedroom. Unfortunately, a number of dings and spots had presented where the paint has come off. Not to mention a large white in-your-face spackled area next to the light switch. Oh, you know. . . for the last three years or so. I had tried looking through our paint fan decks to see if I could remember the name of the paint color, but it was to no avail. But I recently got the idea to just buy one of the 3500 in-stock $3.99 paint samples from the Benjamin Moore store. After all, I only needed a very small amount of paint.
I carefully chose what looked to be a matching color and brought it home and painted over all the white spots. At first it looked perfect, and I prematurely celebrated my DIY genius. Unfortunately it dried much darker than the surrounding color, which gave my bedroom walls an insane polka dot look.
Worse than ever. See?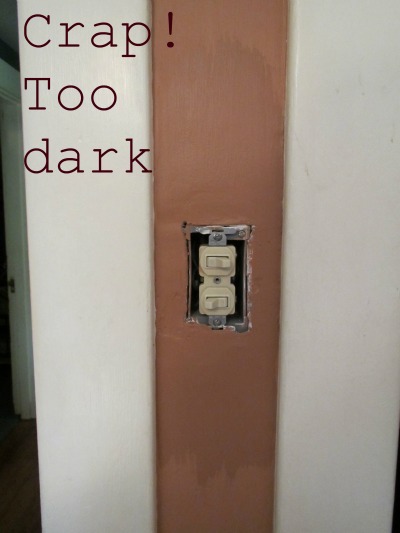 My plan was to admit defeat and and buy another $3.99 paint sample in a lighter shade, but then I decided to try mixing my own color. Luckily, I already owned a can of cream colored paint, (our trim color) so I carefully mixed it into the original pot and got to work.
It took two tries to match a light enough color, but the end result is 99.99% perfect! You would never notice the difference unless it was pointed out, and even then it's only due to a slight difference in sheen. See?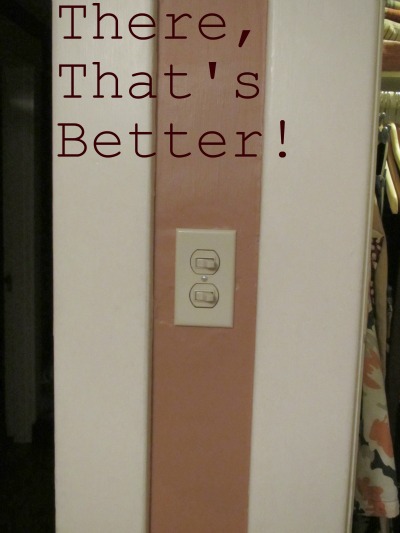 So many of my household DIY projects are not of the "Wow, look at that!" variety, but rather are based on making formerly ugly elements invisible. You know, making things inoffensive. (Remember my idea for a blog called The Inoffensive Decorator?)
So now I can turn on my bedroom light without getting annoyed again. Hooray!
The Inoffensive Decorator strikes again!
Have you discovered any clever DIY solutions recently? Please share your thoughts and ideas in the comments section below.
Katy Wolk-Stanley