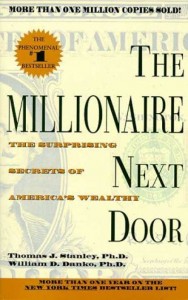 Are you under the impression that millionaires drive expensive cars, live in mansions and spend their days sipping champagne? Well then, you're in for a bit of a surprise.
The Millionaire Next Door, written by Thomas Stanley and William Danko looks at research related to American millionaires and is not only an interesting read, but extremely informative. I read this book when I was first figuring out how to invest in my retirement account, which means I was 30 years old at the time. But despite the, ahem, 12 years since I read the book, much of it still remains with me.
Millionaires are more likely to drive older cars, you're more likely to become a millionaire if you own your own business than if you're employed by someone else, and (here's the crux) millionaires live below their means.
This copy of The Millionaire Next Door is a second hand, but never read copy from Goodwill. It was a gift at one point, which I know because someone wrote this on the second page:
To: Jeremiah,

From: Cleto

2/11/99

Here is the essence of saving & accumulating wealth!
Apparently, this was not a welcome message, as the book appears untouched. 😉
To win this copy of The Millionaire Next Door, write a little something in the comments section about money. It can be anything you wish, positive or negative, short or long. I will randomly choose a winner Wednesday, August 25th at midnight. U.S. residents only, please enter only once.
Good luck!
Katy Wolk-Stanley
"Use it up, wear it out, make it do or do without"
P.S. This book may look a little worn by the time you get it, because I'm kind of wanting to reread it.