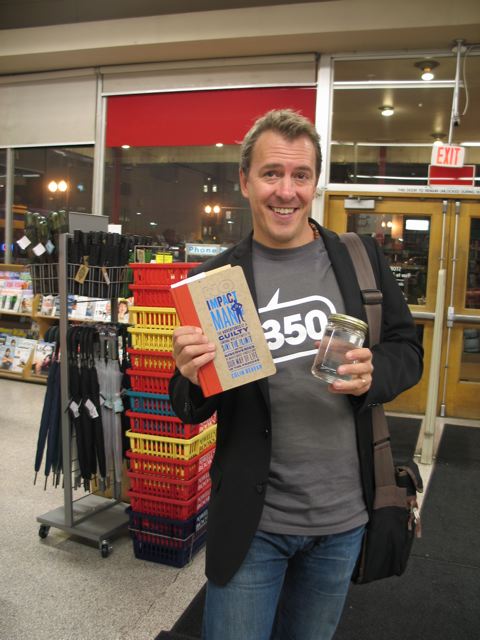 I followed Colin Beavan's No Impact Man blog during his foray into all things environmental in 2007; read his book when it came out in 2009, and even interviewed him when he came into town for a reading last fall. So I was not exactly running to the theater when his movie came out. I kind of wanted to see it, but felt like I had pretty much learned all there was to learn about No Impact Man. (He did invite me to come to a screening with him after our interview, but I had babysitter issues.)
We're currently doing a free trial Netflix subscription through our Wii, and I noticed that the No Impact Man documentary was available to instantly watch. I figured it would be a good enough way to relax after a full day at work and making dinner.
I was surprised how much I liked the movie. There's just something unfiltered about the medium of film that can't be recreated in the written form. Tone of voice, facial expression and general exasperation lose something in the translation.
Colin's wife Michelle is an equal partner in the No Impact Man movie, which is great. She is the yin to his yang. A self-professed reality TV junkie and designer clothing aficionado. She explains that she told her husband before marriage that she didn't like nature and would not be participating in any camping trips. But that despite her wishes, their entire life had since become a never ending camping trip.
Michelle's transformation through the year is just as compelling, if not more so than Colin's.
I explained this to my younger son last week:
When you do something difficult, it is more of an accomplishment than for someone else who gets through it easily.
The situation was a long bike ride that my son was struggling with. Others were breezing though it, but my son had to walk his bike at one point.  I was more proud of his cycling that day because it was hard for him than I was for my older son who breezed through the route. This tenet has been ruminating in my brain ever since, and I've found it to be relevant a number of times.
I kind of wish I had someone else watching the movie with me to discuss it with, (my son was in the room, but was goofing around on the computer while wearing headphones.) so I guess I'll have to hit you guys up instead.
Did you see the No Impact Man movie, and if so, do you have any thoughts to share?
Click HERE to read my interview with Colin Beavan.
Katy Wolk-Stanley
"Use it up, wear it out, make it do or do without"