Last year, I participated in a "Bring Back Thrift Week" campaign and wrote for an entire week on issues related to thrift and frugality. It was an interesting personal challenge, as I like to write about a wide variety of subjects, and to focus on a single one for seven days was discombobulating. But as much as I like to write about issues related to sustainability and simple living, it's frugality that really revs my engine.
Thrift Week is nothing new according to the Bring Back Thrift Week website:
"Up until 1966, it was a coast-to-coast celebration of American ideals like diligence, hard work, responsible consumerism, and smart saving."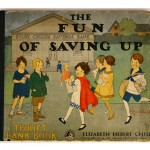 Except for the "hard work" bit, this is a week I can stand behind. Seriously, I work hard enough. Maybe not enough to impress a Puritan, but I make dinner from scratch every day and hang my laundry to dry in wintertime Oregon.
The Bring Back Thrift Week website has lots of fun links and pages, such as a Thrift Museum, apps for your iPhone and even a Facebook page. (What, no Twitter?!)
This new push toward all things thrifty is put together by the publisher of Thrift: A Cyclopedia, which is a huge collection of information about the history of thrift in the United States.  And despite having been sent a copy to use as a giveaway last year, I didn't actually get a chance to read it before I had to send it off to the lucky winner.
So enjoy your "Thrift Week," and stay tuned to The Non-Consumer Advocate, as I will be writing within the single subject of thrift for the entire week.
Katy Wolk-Stanley
"Use it up, wear it out, make it do or do without."
As always, I received no compensation in exchange for this column. Images from Bring Back Thrift Week.