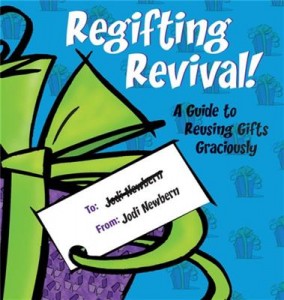 Congratulations to Namastemama, whose regifting story won her my copy of Regifting Revival: A Guide to Regifting Gifts Graciously. Although the winner was chosen using a random number generator, her story was still terrific, as we all receive gifts that are either not our style or don't fit into the organization of our homes:
"I am a Sunday school teacher and get lots of gifts at Christmas. I can never use them all so just this week I took one of them and gave it as a hostess gift at a party. My hubby said that even if they didn't like the contents they would love the thought."
Here are but a few of the wonderful stories and ideas that you, the readers shared. Thanks to everyone who took the time to enter this giveaway!
From NMPatricia:
Not sure this if this qualifies, but through the holidays, in the articles about regifting, I ran across a certificate to be included with presents with the permission to regift. I apologize for not knowing exactly what site I got it from so I can give credit where credit is due. The basket for the present came from Goodwill for $0.99. The gift I made. When the recipient called to thank me, she said she definitely would not regift, Yet! It was as if the certificate made the notion OK for someone who would never think it was OK to either do it or even talk about it. But it also seem to give her "permission" or opened the door to saying I could have the basket back if I wanted. Which I am thrilled so I can use it again. My first step into the world of regifting!
From Shannon:
This doesn't exactly sound frugal but.. . My sister years ago go many pieces of Waterford Crystal on trips to Ireland. She re-gifted a beautiful small bowl to me years ago and it sits on my bookcase full of those souvenir smashed pennies. Years ago I decided I'd had enough of mugs with Virginia Beach printed on the side or those cedar boxes with Gatlinburg burned in the top. So, I told everybody who regularly brought me souvenirs that I only wanted those smashed pennies. They're cheap, they're fun to collect, and they take up very little space…especially when housed in a re-gifted Waterford Bowl. 
Note from Katy: I ♥ smashed pennies, and feel they are the perfect souvenir. They're cheap, require no manufacturing or packaging; and usually don't even need any electricity to make, as the hand crank supplies all the necessary energy.
From AlwaysLearning:
I've had a dedicated regifting drawer full of things my 5 children, husband and myself either received and didn't want, couldn't use, or believe it or not, something my kids just wanted to put in the drawer for future regifting. We always had something to pull together (even last minute sometimes) and never had to purchase a gift for any of their friends. Try to imagine how many birthday parties your kids get invited to; or friends/teachers at school having a birthday. My drawer has shrunk a little since 4 of my children are grown adults now, but they learned from a young age to regift and now have regifting drawers of their own.
From Chase Nolan:
My family used to play a regifting game that lasted several Christmases. We would regift this very large, flat, and colorful lollypop as a gag gift to each other.

I must have taught my kids well, because none of us ever wanted to eat this giant sugar-on-a-stick. That is, until my youngest could no longer resist.
And lastly, one of my proudest regifting moments:
My childhood best friend (and ex-next door neighbor) was getting married and I was hosting a bridal shower for her. I wasn't sure what to get her but did come up with a great idea. Her mother had put up a "Peace to all Who Enter Here" brass knocker on the door of her childhood home in the 1970's, and I knew this was a special family artifact for her. Unfortunately, they had sold the house when we were in high school. I went and asked the new owners if I could have the knocker to give to my friend and they were happy to oblige. When this gift was opened my friend and her siblings, (who were also at the shower) were stunned and very moved by this gift.
Best gift I ever gave.
Katy Wolk-Stanley
"Use it up, wear it out, make it do or do without."
Note: This book was my personal property, and I received no compensation in payment for this column.