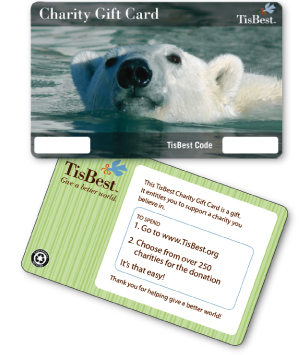 Thank you to everyone who entered to win one of two different $35 TisBest charitable gift card giveaway packages. Your comments about how you incorporate charitable giving into your lives were both inspiring and thought provoking. Congratulations to Erin G and Jennifer whose comments were randomly chosen to win this week's Non-Consumer Advocate Monday Giveaway. And a great big thank you to Non-Consumer Advocate reader Tegan, who set up this week's giveaway!
Here's just a small sample of the comments about how readers give both their time and money towards charitable giving. Click here to read them all. And make sure to check back in next Monday, when I'll be doing a giveaway of Jonathan Bloom's American Wasteland, which is his fantastic exploration of the issues related to food waste.
Katy Wolk-Stanley
"Use it up, wear it out, make it do or do without"
Erin G
"I help my church feed the school kids across the street. A lot of them rely on school lunches for food, so we give them a bag lunch to take with them over the weekend."
Jennifer
"It's hard to give back with two young kids, I hope when they're a little older we'll be able to volunteer as a family. I'd love to work in an animal shelter–though it would be hard not to take all the animals home. I do donate old towels & blankets to animal shelters when they start to go thin & I always participate in food drives. We always bring our outgrown clothes to Goodwill or other charities/thrift stores."
"Giving is a part of life in my household. Two examples:
– Our synagogue collects cereal and pasta for the local food bank (each institution collects different items, so that there will a variety). My kids and I donate cereal and pasta, as well as bring all the donations monthly to the food bank. We also volunteer at the food bank sorting and organizing food for other volunteers who deliver it.
– The 8th night of Hanukkah, in my household, is charity night. The kids pick a charity they want to support, and donations are made in lieu of gifts that night.
I love the idea of these cards. I'm going to look them up right now to consider as gifts. Thanks so much for letting us know about them!"
"I give my time (and money through buying supplies) to my local elementary school my son attends. I'm not into the PTO/PTA volunteer situation. I actually spend my time, at least 10 hours a week, inside the classroom. I take care of anything I can for the teacher so she can focus more on the students such as; grade papers, make copies, gather and send out homework, etc…
In addition, I work a lot one on one with the kids. I tutor the children that are having difficult times. Some kids just need that little one on one attention and a quiet atmosphere to learn. Yes, they excel but I literally get a high when they progress. It is the greatest feeling and I get so excited for them.
I give money as well. Actually, I had a New Year's resolution to never say no to people raising money. I give a minimum of $10 everytime I am asked. Funny thing is, karma is such a good thing. We have been financially blessed beyond belief this year unexpectedly and I truely believe it is because we opened out hearts and wallets to others in need."
Lucy
"How do I give back to the community? Well, I help people with fundraising projects when they ask! I do a lot of grant proposal writing… paid and as a volunteer."
Tammy
"I work with a friend of mine and her Mom to provide loaned prom gowns and accessories to local girls who might not get to attend their Jr/Sr proms. We collect donated and thrifted gowns, shoes, accessories, toiletries and if available dinner certificates, hairdo certificates, etc. We ask for the gowns back and cover cleaning, etc. My friend and her Mom are great seamstresses and have been known to hem, tuck, etc. to make a girls dream gown "fit" and I provide handknit ribbon shawls, custom beaded jewelry, etc. We have some local beauty pagent participants help the girls as their personal shoppers to put together that special look. We've done this 2 years so far and everyone who has participated has seemed to really enjoy it as we try to make it a really fun shopping event from which the girls leaves with everyone she needs or a plan on how to achieve her dream prom. It's truly one of the best experiences of my life and we hope to continue for years to come."
"When I had a job, I would donate to the food pantry if I had extra money left over at the end of the month. It didn't happen very often, but three or four times a year. When I was younger and had no money, I would volunteer to take donations at the local public radio station. Now that I'm a mom, I have little extra money or time — if we do have extra money, I wind up feeling guilty if we don't add it to our son's college fund. So I recently decided that for his first birthday (and probably for the first few birthdays) we will ask our guests for no gifts — he has enough stuff already — and instead put out a call for donations to a local charity. If we decide to donate to the food pantry, then I'm going to have my sister make robot decorations out of canned food cans. If we decide to donate to a different kid-centered charity, we will try to find a way to make that part of the party theme."
Christine
"One of the ways we like to help out our community is with the homeless. During the winter, we always have some blankets in our trunk to give to those who need them. And when we see someone asking for food, we stop by the grocery and buy bread, peanut butter, fruit, and a hot deli item like chicken for them to eat for a few days. We also try to take a few minutes to listen to the person. Its a hard life out there and sometimes people just need to have someone care."