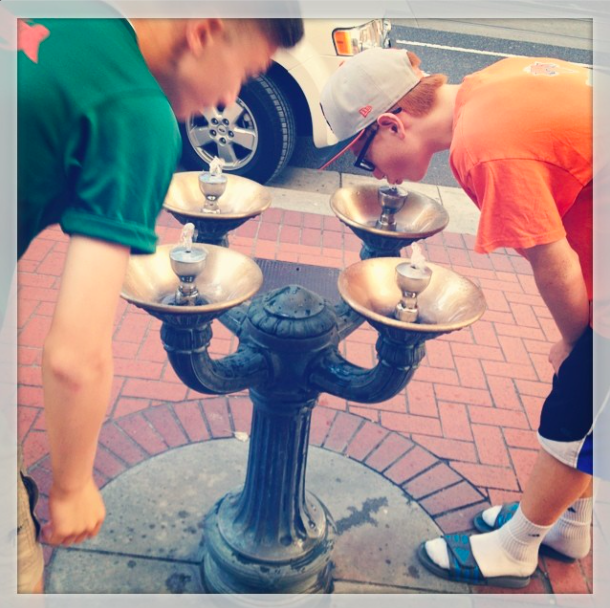 Today I Am . . . 
Sanding and priming my $20 thrifted campaign dresser. Then, I'll go to the Habitat For Humanity ReStore to shop for paint. I was leaning towards painting the dresser a tasteful black since my bedroom is a terra cotta color, but I say f*¢& it, I want something bright and fun!
Continuing to be impressed by all the amazing free and almost-free projects that Megan from Upstyler comes up with. This week she took the wooden handle from a broke-ass umbrella and turned it into a very cool looking wall hook. (This is my favorite new blog, and I highly recommend it!)
Pleased with yesterday's Downtown Adventure Day that I organized with my son and nephew. We took the bus downtown, walked around, took the streetcar to the tram, rode the tram to the top and back, ate delicious food cart falafel and then got cheap and fantastic haircuts from Quinn at Barber-Q. Haircuts needed to happen anyway, so we might as well plan an adventure day around them!
Planning tonight's dinner of homemade sushi. The kids can assemble them, and it's the perfect meal for a hot summer evening that doesn't heat up the kitchen. (I make rice in the steamy hot rice cooker which only needs an electrical outlet, so I can set it up on the porch instead of the kitchen.)
Enjoying the nice paycheck that comes with working five shifts in a pay period. Damn, that's a lot of money!
Pleased with the city of Portland with its outdoor Benson Bubbler drinking fountains all over downtown, which makes it unnecessary to carry a heavy water bottle, even in the height of summer.
Happy that even though my younger son has a haircut that requires frequent trims, the rest of us balance it out. I cut my husband's hair, my older son wears his hair long and I forget to get haircuts and haven't had one for at least a year and a half!
Now your turn. What are you doing today?
Katy Wolk-Stanley