I know you're probably sick to death of reading about my $20 campaign dresser project, but that's too bad because it continues to be part of my daily life. I'd already sanded and primed the dresser, (as well as removed the brass hardware and given myself carpal tunnel syndrome from all the polishing.)
But I didn't have any paint yet.
My first choice for painting something is to dig through my basement stash, but I neither had anything bright and fun or austere and stately enough to pique my interest. So I looked up the location of the new Habitat for Humanity ReStore here in Portland and headed on over.
But not before snapping a selfie of myself in front of the store: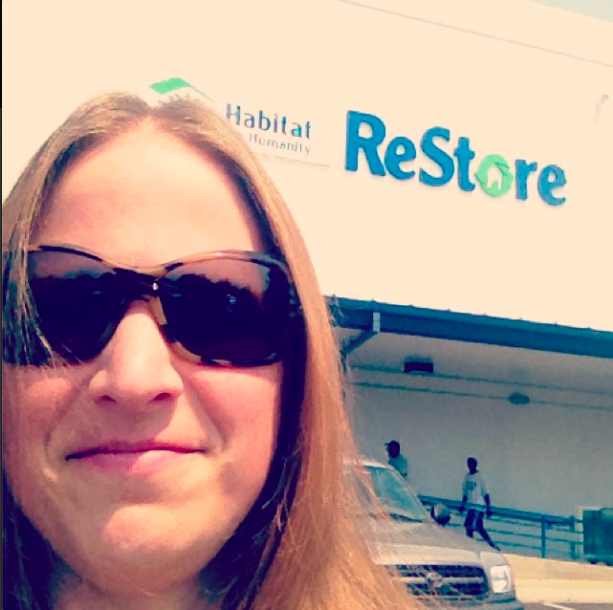 Yes I get stared at when I do things like take selfies in front of businesses; and no, I do not care.
I walked into the spaciously clean and bright store and was immediately confronted by this $2500 behemoth: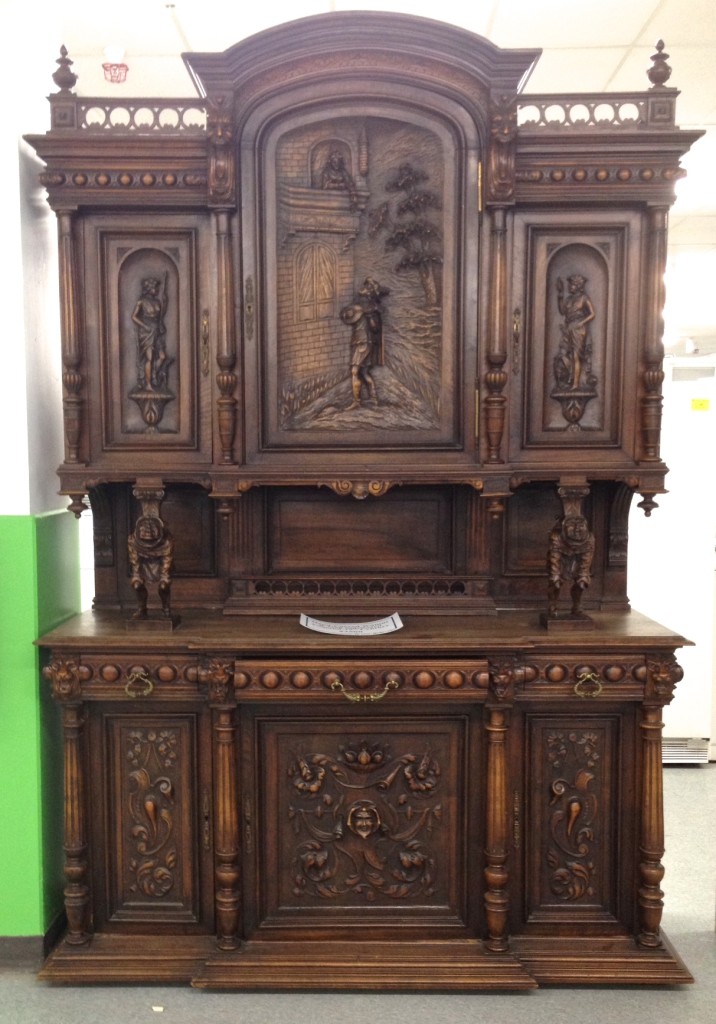 It's the sexy monk of the antique furniture world.
However, I was there for paint, so I headed over to the paint section. Sadly, there's much much less inventory than at their old store. I was tempted by this $1 can of light chartreuse paint: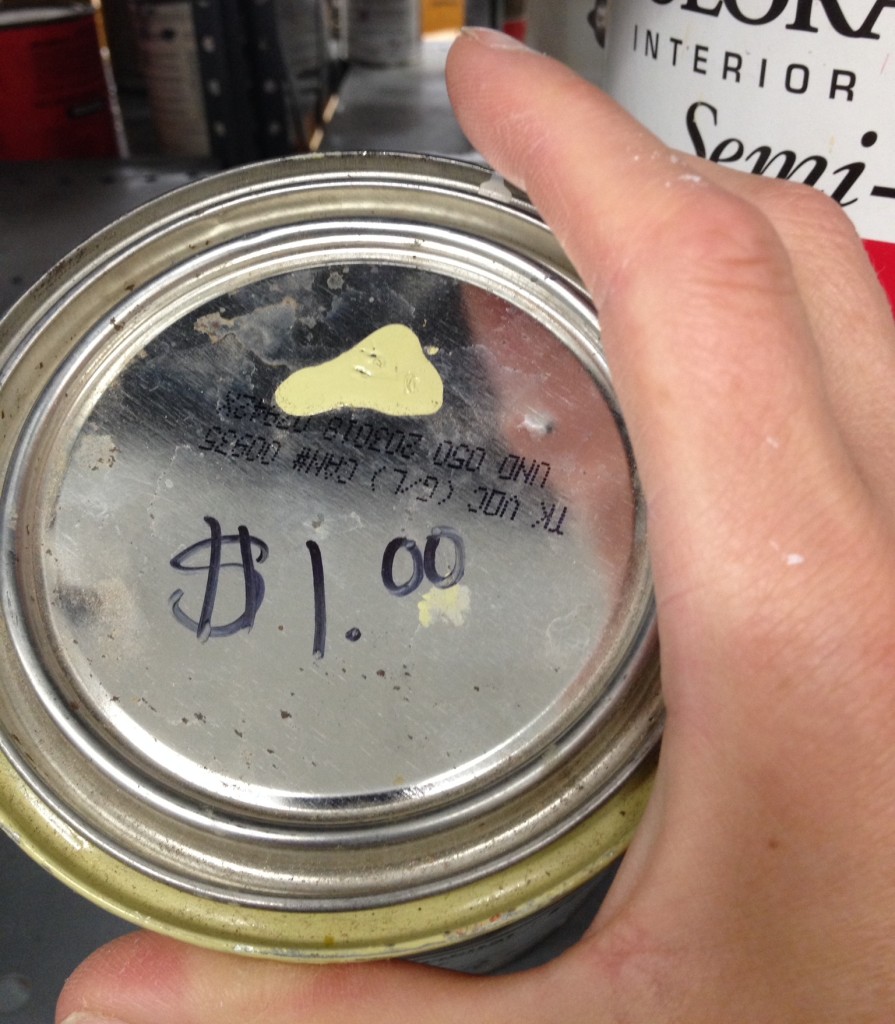 I could totally see how great the dresser would look in this bright color, unfortunately it would grossly clash with our terra cotta colored bedroom. A Barnum & Bailey's look if there ever was one, and clown bedroom is not the aesthetic I'm striving for.
I ended up buying this $2 jug of charcoal grey paint that was 4/4 full. (All paint is labeled this way, as the paint cans have already been used.)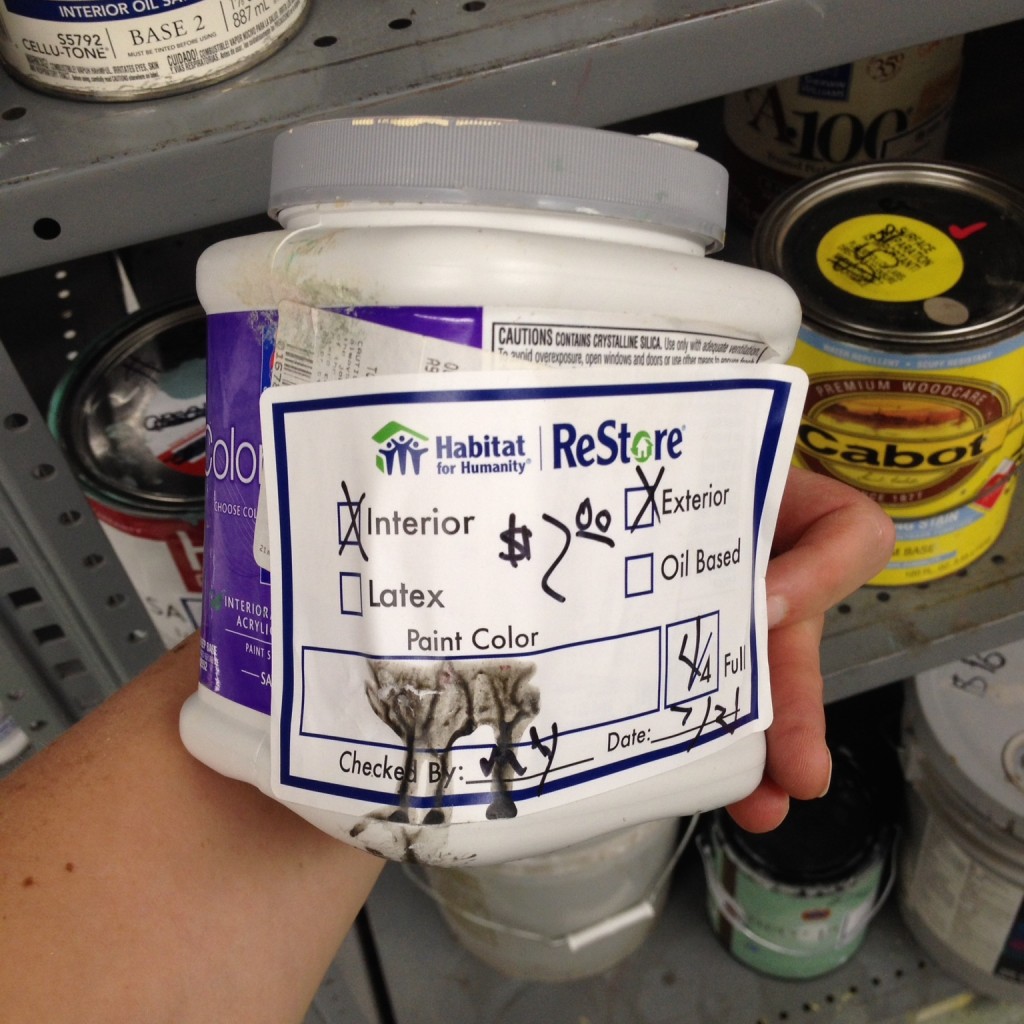 Paint decision having been made, I decided to browse the store. Of course, I had to go play in the lighting department and imagine the great DIY opportunities.
I need you to imagine how awesome these groovy vintage rattan shades would look spray painted turquoise or apple green: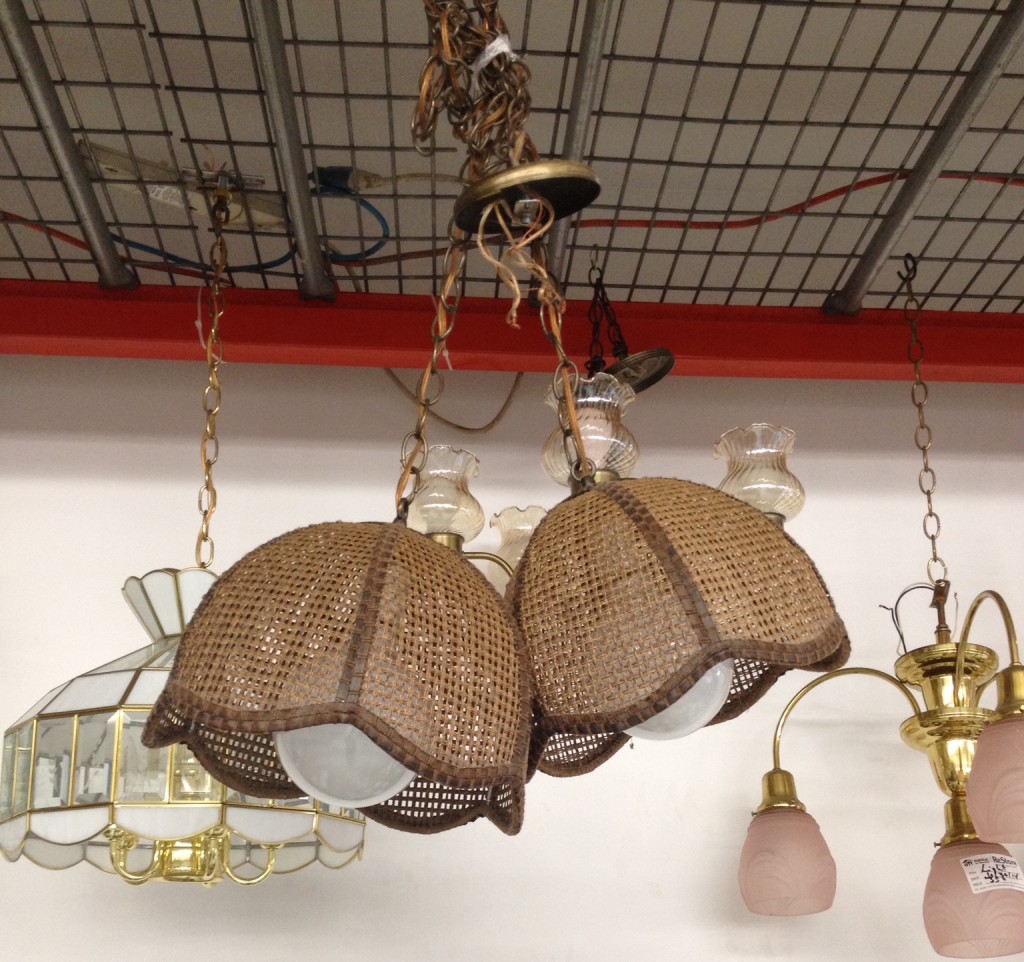 And this vintage wood and brass chandelier? It took every ounce of my self discipline to not bring it home. Do you see the leaf detail? I can totally envision it painted either a lovely creme color or some wonderfully saturated hue. And instead of glass shades, use small round bulbs.
Please, some Portlander, go buy this chandelier right now!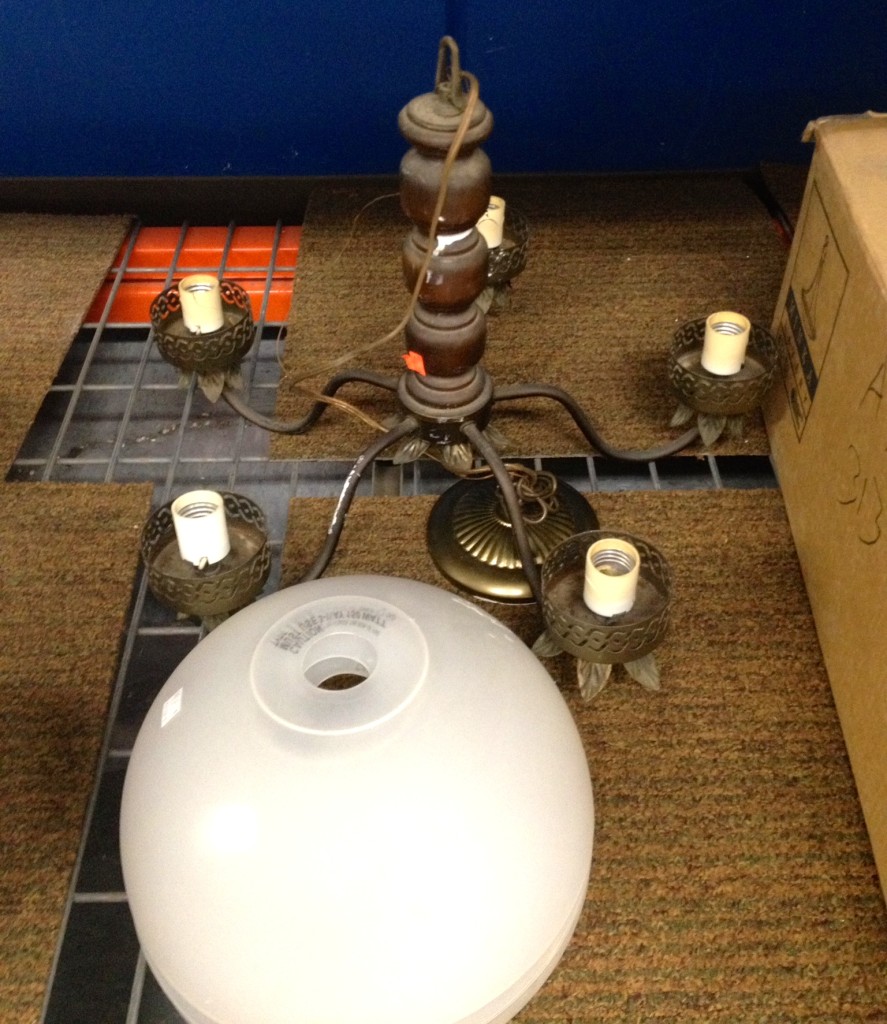 Speaking of stuff that I wanted to buy for my imaginary hipster apartment, I present to you this vintage sideboard: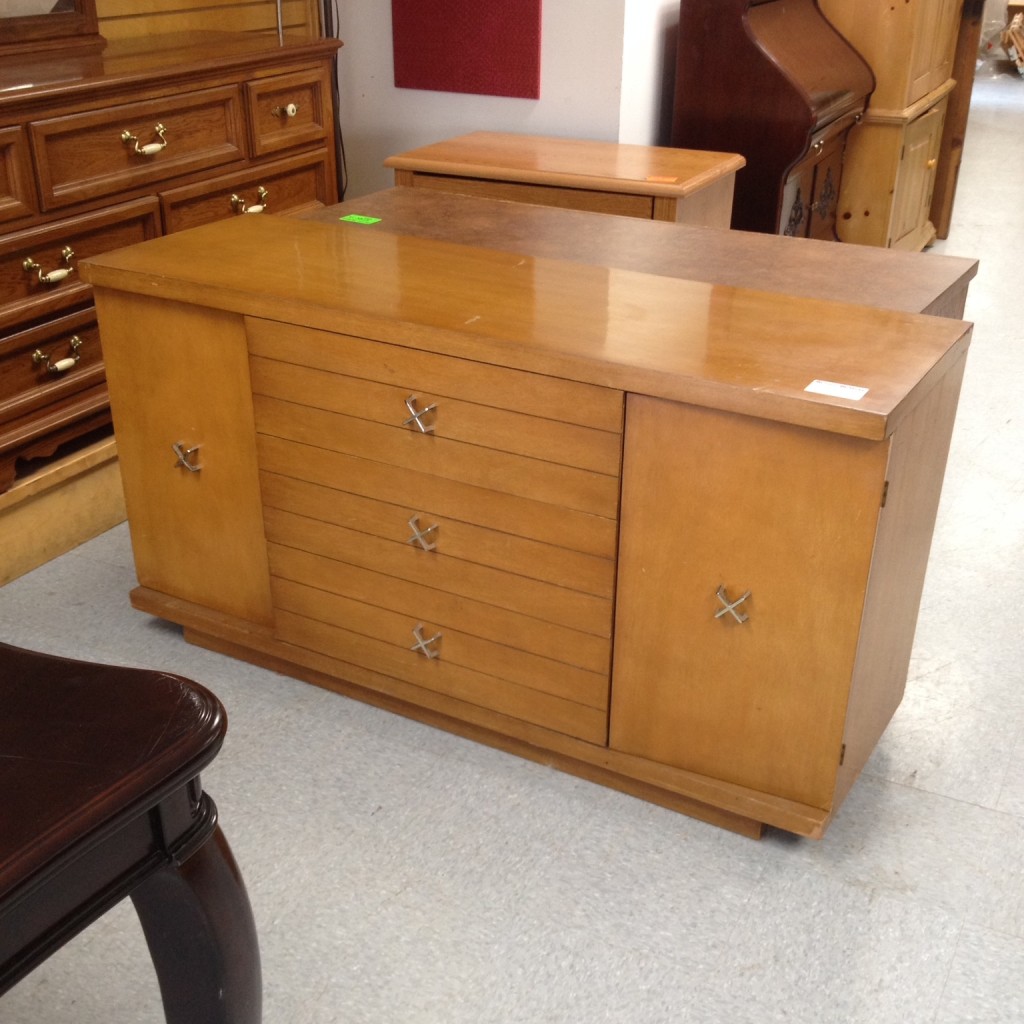 Drool . . .
Luckily there was enough godawful stuff to temper my neediness. Hello . . .  sloppily painted stool!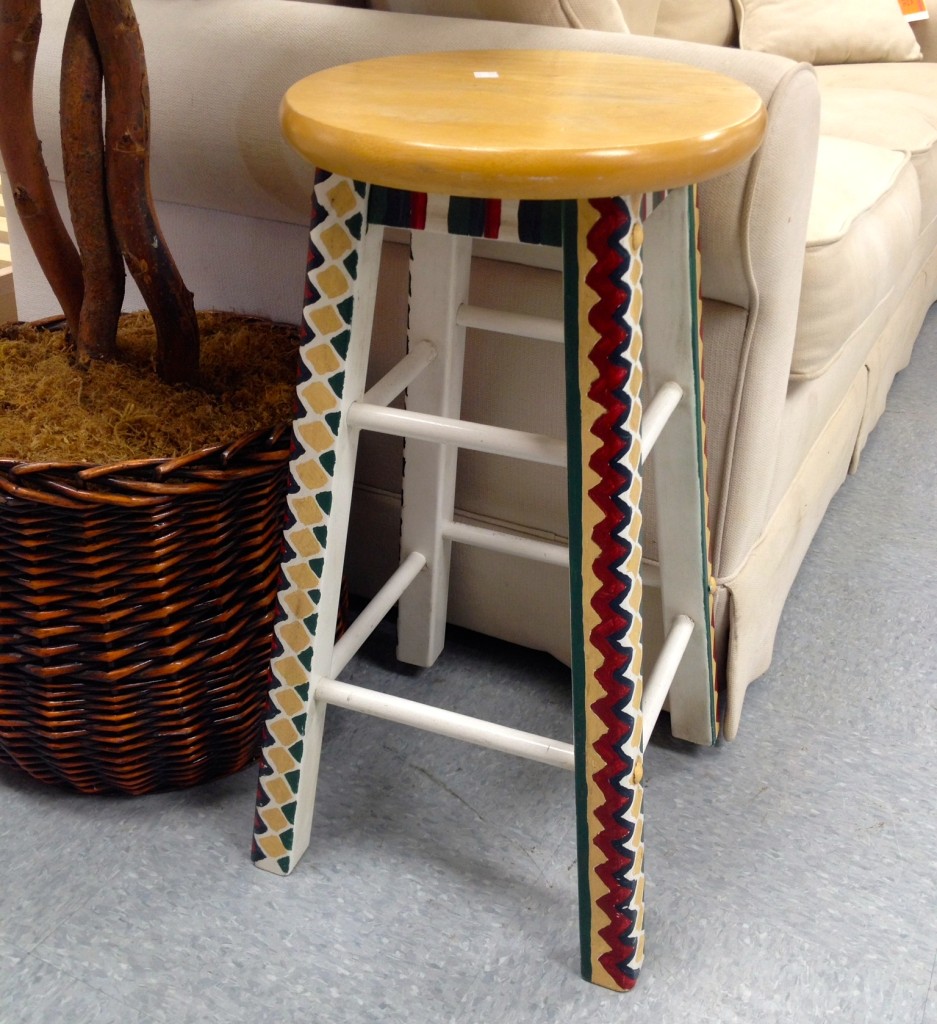 And this painting?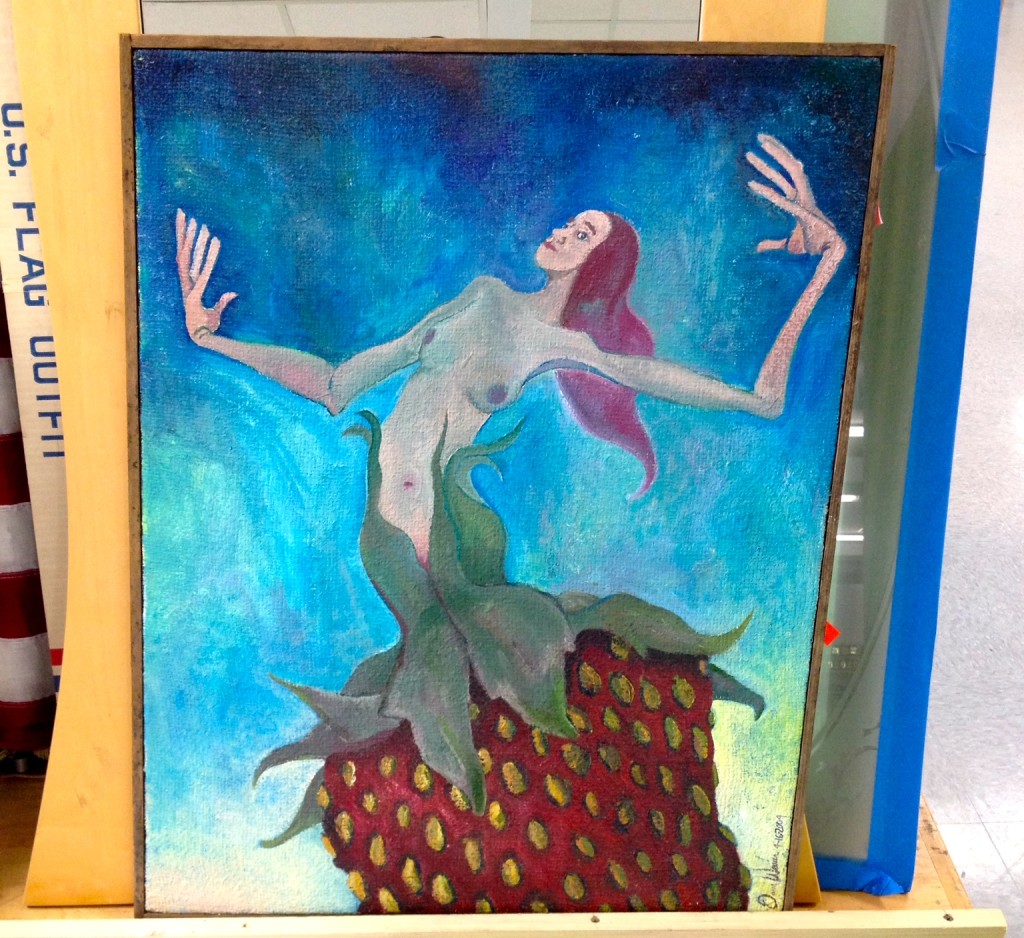 Too bad I already have a painting over my mantle of a women being born from a strawberry who is displaying her uneven man hands while looking off to the side.
Plus, it's such a clichéd look.
Not everything at the Habitat ReStore is for those with funky taste though. Check out these gorgeous glass pendants, are they not what every stainless steel appliance and granite countertop kitchen is missing?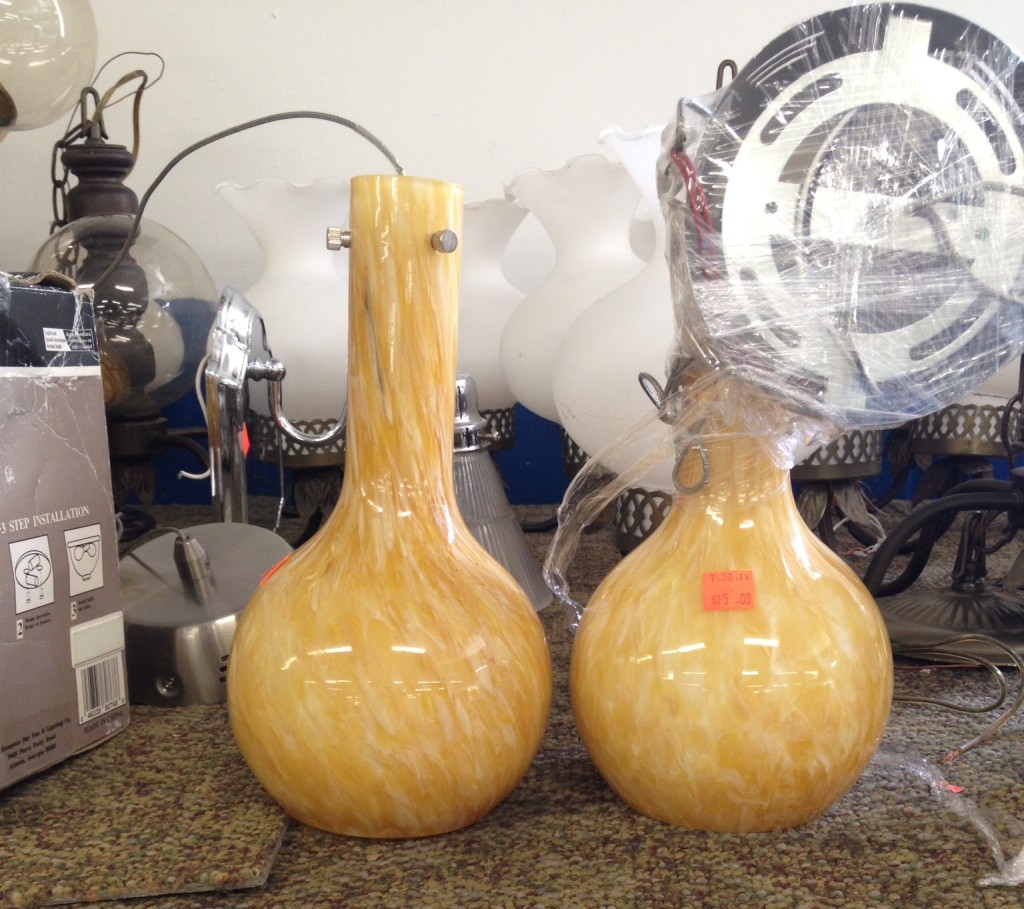 I did just buy the $2 paint and have already completed two coats, and it's looking rather perfect. Even my husband, who thought we should just leave the dresser as-is, complimented me saying it looked "very modern."
Just imagine how much he would have loved that painting.
Do you get your home maintenance supplies from alternative sources before hitting up Home Depot? Whether it's putting the word out on Facebook, cruising the Restore or simply rethinking a project, used supplies will save you money and help the environment.
And what's not to love about that?
Katy Wolk-Stanley