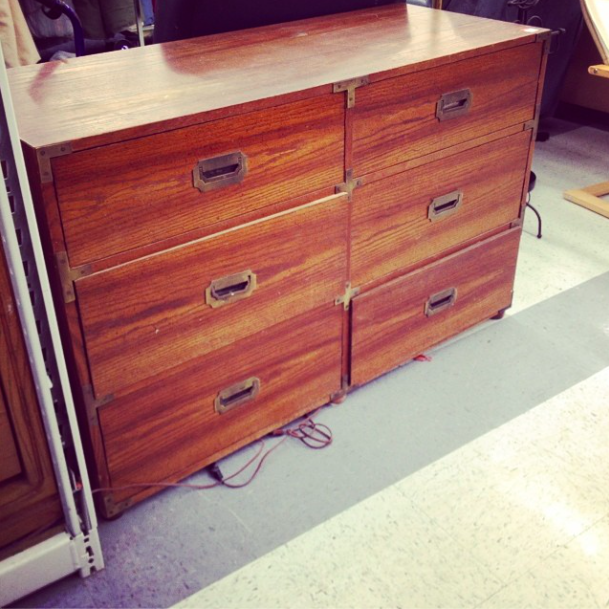 I've been keeping an eye out for a low dresser over the past few years. I wanted something cheap, sturdy and within my design aesthetic. The plan is to put our bedroom TV on the dresser and then banish the rolling metro shelving unit that the TV current sits on.
At this point you may be wondering why we need a TV in the bedroom at all, but I think you need to understand that some people in my marriage like to watch international soccer games on TV, while other people in my marriage like watching old episodes of Buffy The Vampire Slayer.
I'll you guess which is which.
I'd already turned down this mid-century dresser, as the top was a plastic laminate, (meh) and hadn't seen anything since then that piqued my interest.
But the above vintage solid wood/dovetail drawered campaign dresser was priced at only $20, so I bit the bullet and brought it home. It wasn't an immediate decision, as I just finished ridding my house of a buttload of unnecessary stuff, but an hour or so of doing image searches of painted campaign dressers put me into a frenzy. (I even put together a Pinterest board of nothing but painted campaign dressers!)
I worried that the dresser would be sold by the time I made it back to Goodwill this morning, (I'd seen it last night) but luck was on my side and I was happy to fork over the twenty smackeroos!
My plan is to paint it a glossy black color and then shine the hell out of the solid brass hardware. There's a single drawer that needs to be re-glued, but it's a small job. And for those who wonder why I don't keep the original wood finish, I need to explain that the wood has those horrible teeny splatters of dark stain to look faux antique. (The dresser is from 1974.)
Blegh.
I think I should be able to start on this project within the next few weeks, and I'll keep you updated.
I know it's inherent in this blog post, but I need to hammer home that low cost/high quality used stuff will always win over the low quality/high cost of a newly manufactured item. Buying used gives us the option to outfit our homes with quality items without spending too much, and most importantly without supporting environmentally irresponsible factories with questionable worker practices.
Take that, Wal-Mart!
Katy Wolk-Stanley