Today I am . . . 
Home from work, which feels wonderful. The go-go-go constant adrenaline of working at an extremely busy labor and delivery unit can be utterly exhausting.
Continuing to declutter my bedroom. Because I see reuse potential in everyday objects, I often have a hard time not holding onto excessive stuff. Examples? Socks that could be darned. The bottom parts of denim cutoffs that could be used in a project.
Going to hang laundry on the clothesline for the first time in a week. I've been spray painting baskets in the backyard a few at a time recently, and I didn't want our laundry to get contaminated.
Excited for my sister, who finally closed on buying an adorable house in New York City. How adorable? Check out the photo of the kitchen! (The stuff is from the former owners)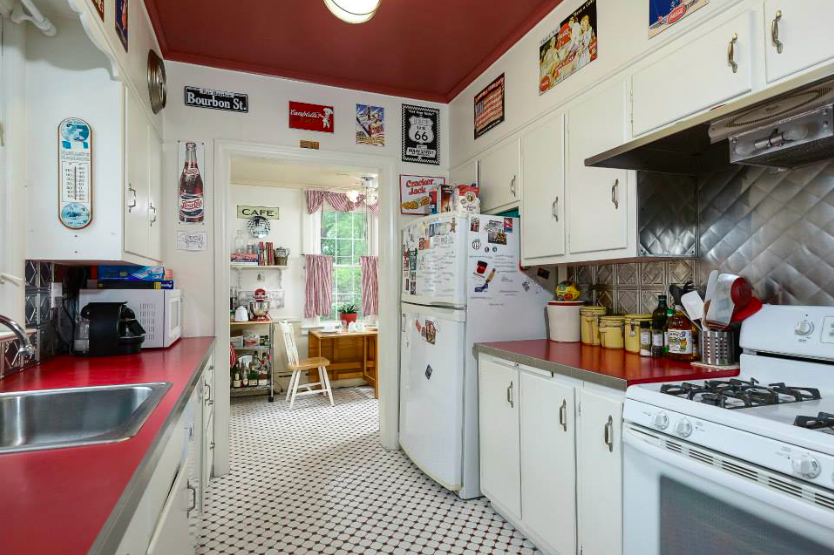 Happy that the Canadian roommates who completed a Buy Nothing Year are getting great media attention.
Putting together some goals to complete by the end of the year.
Proud of my kids. They're both amazing and creative young men and give me pleasure on a daily basis.
Excited to put together a more proactive plan to run my household. I often feel like I'm putting out fires instead of getting ahead of things.
Craving enchiladas, and thinking I should together a pan for tonight as well as a few pans for the freezer.
Now your turn. What are you doing today? 
Katy Wolk-Stanley