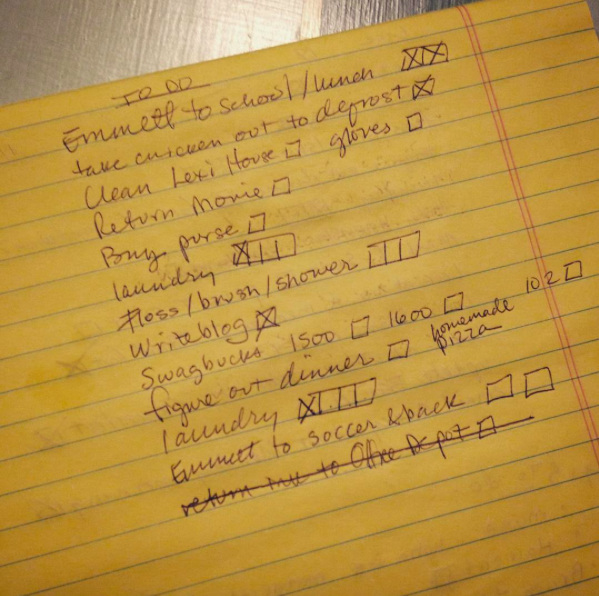 Today is a Tuesday and I'm off from work. It's not a special day, it's just an ordinary day. But it is a non-consumer day. Which for me happen 365.25 days per year.
Here's what my day looks like.
I wake up and put the kettle on to boil so my son and I can start our days with nice strong cups of tea. (Of course, the kettle is from Goodwill, although the tea was not. I stocked up on Red Rose tea last time it was on sale at Safeway.)
I pack a school lunch for my son which includes a 50¢ Grocery Outlet Tillamook yogurt as well as a PB&J that featured peanut butter that I yes, stocked up on when it was at The Grocery Outlet for $1.99.
I walk onto the porch and see that my friend Lise has dropped off her Chinook Book, as it's about the expire and she thought I might get some use from the local coupons.
I come home from dropping my son at school and write out a detailed to-do list. How detailed? It includes check-off boxes for floss/brush/shower, as I know myself well enough to know that I put this off less if I get the satisfaction of checking off a box.
I throw a load of towels and kitchen laundry into the wash on the cold water setting. It's wet and rainy so I'll use the electric dryer. Otherwise it will be days until the towels dry.
I bring up a pack of chicken thighs from the freezer for tomorrow night's dinner. (I stocked up when they were 50%-off.) We're having my mother and step-father for dinner tomorrow to celebrate her 73rd birthday.
I put the Avengers DVD into my purse so I won't forget to return it to the Redbox kiosk this afternoon. A free code becomes decidedly less free when DVD's are turned in late.
I've already made plans to buy the used Queen Bee purse, so I make sure to have $30 in cash. It helps that I've recently sold the freebie fireplace screen for $5 and the $2 thrifted racquetball racquet for $15.
I'm meeting my mother at noon to clean one of her guest cottages between tenants. I'll put the money into the ol' college fund. The next payment is in January, and I can't start slacking off!
I've already planned out tonight's dinner, which will be homemade pizza. I'll bake two, which will provide enough leftovers to satisfy my husband and 17-year-old son. I take a pack of clearance priced prosciutto from the freezer to serve as the topping.
I write my blog post, although I concurrently run a few Swagbucks videos as my goal is to earn four $25 PayPal gift cards per month. I've already earned two so far, and am halfway to a third one.
I'll add to my to-do list as my day takes shape, but it's enough for now to get me on the right track.
This all may sound like a lot of work, but it really isn't. I've loaded up my to-do list, but it's all stuff that balances with running the household and driving my son around town. (Soccer practice tonight!) Although my son did pass his driver's test, we're holding off on activating the license for awhile as the insurance quotes were astrinomical. Plus, I really cherish our car conversations.
Now your turn. What are you doing today?
Katy Wolk-Stanley
"Use it up, wear it out, make it do or do without."
Click HERE to follow The Non-Consumer Advocate on Twitter.
Click HERE to follow The Non-Consumer Advocate on Instagram.
Click HERE to join The Non-Consumer Advocate Facebook group.
Click HERE to follow The Non-Consumer Advocate on Pinterest.