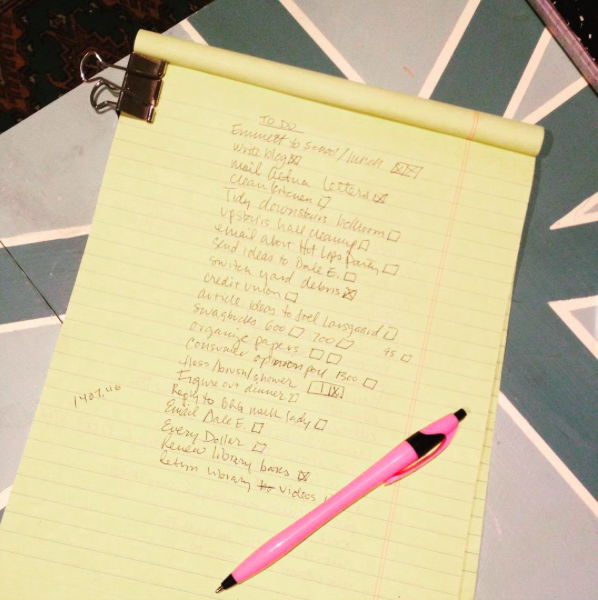 Today I am . . . 
Sitting in my quiet house and appreciating the sunny skies that are streaming through the windows. It's been rain, rain, rain all week, so this Oregonian is taking a moment to soak in some sun.
Writing a very long to-do list. Nothing too strenuous, just a ton of tiny tasks.
Participating in an in-person consumer opinion poll this afternoon, for which I'll be compensated with a crisp new hundred dollar bill.
Depositing that cash into my sons' college fund account at the credit union.
Crossing my fingers that our dental insurance will reverse their decision to refuse to pay the $530 panoramic X-ray that went with my son's wisdom tooth extraction. I mailed off a kick-ass letter of appeal this morning, and am willing to fight the good fight on this one.
Putting together a list of proposed article ideas for the Clark Howard website. My piece about Putting The Brakes on Excessive Gift Giving went live on Wednesday, so I need to brainstorm some new ideas.
Needing to figure out a half-dozen Goodwill specific holiday ideas for an upcoming local TV appearance. Umm . . . crap!
Returning library books to avoid a fine.
Cooking black beans in the crock pot for tonight's chili dinner.
Now your turn. What are you doing today?
Katy Wolk-Stanley
"Use it up, wear it out, make it do or do without."
Click HERE to follow The Non-Consumer Advocate on Twitter.
Click HERE to follow The Non-Consumer Advocate on Instagram.
Click HERE to join The Non-Consumer Advocate Facebook group.
Click HERE to follow The Non-Consumer Advocate on Pinterest.