Today I am:
Lying in bed reading other people's blogs, specifically:
Thinking that after yesterday's high falutin' words about decluttering, I should maybe get off my tuchus and go through some of my own crap.
Still in love with my new Goodwill lamps, which now live in my living room and bedroom. (And for those who may be wondering what their names are, I have dubbed them "Adler" and "Berkus.")
Like so: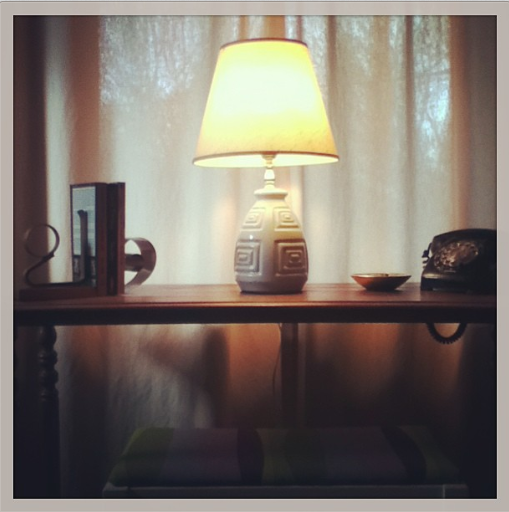 And so: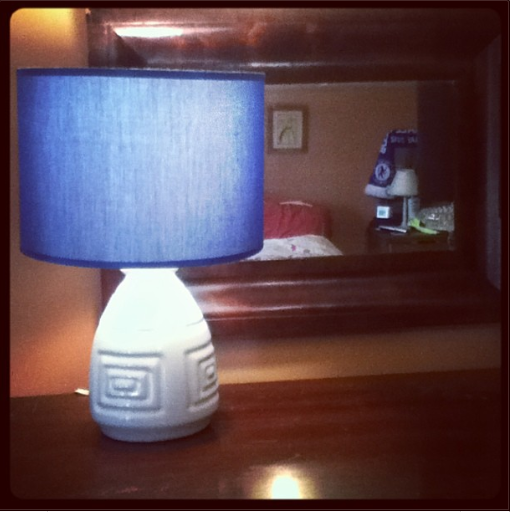 Enjoying the memory of going to Ikea with my 14-year-old son last night. (We were waiting to pick my mother up from the airport.) I bought him a 50¢ hot dog and we each slurped down a cup of their free Ikea Family coffee. Cheap date, but totally fun.
Embarrassed that I really like the new Carrie Diaries TV show. I highly doubt that I'm in their target demographic, but I'm loving it anyway.
Am on a super tight budget. The cost for labor and materials to build the trim surround for our built-in buffet was $1000, so we're in crazy cheap mode for a paycheck or two.
Looking forward to seeing my friend Chelsea tomorrow. I sometimes forget to schedule adult play dates, but I'm always really happy when I do. (She suggested we meet at a tea shop, but my crazy cheap budgetary restraints have us meeting at my house.)
Now you. What are you doing today?
Katy Wolk-Stanley