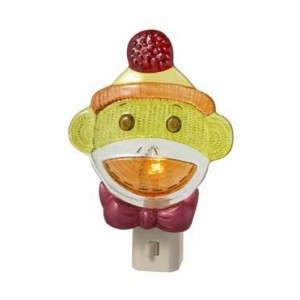 Today is one of the the first non-rainy Saturdays of the year, and Portlanders apparently spent the long rainy months getting ready for garage sales. Because there seemed to be temptation on each and every street corner.
Must. Not. Fill. House. Up. With Crap.
Have. Spent. Much. Of. Last. Year. Clearing. Crap. From. House.
Deep breath in, deep breath out.
Or. . . maybe, just maybe go to the garage sales that are within walking distance of my house. Good Plan.
So the kids and I hit up a grand total of five garage sales within a six block radius of the house, and bought:
Antique ironstone platter, 50¢.
Pillsbury Dough Boy figure, free. (I tried to talk my son out of this piece of junk, but was unsuccessful.)
Pair of striped stretchy gloves in perfect condition, free.
Small 5″ X 7″ stretched canvas, still in shrink wrap, free.
New in box sock monkey night light for my mother's birthday, $1. (Shh . . . don't tell her!)
Pretty metal and glass hummingbird feeder, $2. (I've been keeping an eye out for one.)
Small ethnic painted bird, $1. (My son bought this with his own money.)
I am fully aware that none of the stuff that I bought was a "need," but I never claimed to be a minimalist. What can I say? I am completely without control during garage sale season. And if my flimsy excuses fail, I can always blame the sock monkey!
Katy Wolk-Stanley
"Use it up, wear it out, make it do or do without"