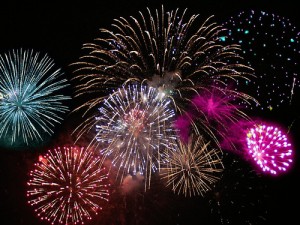 I like to think of myself as a follower of the simple living movement. This is despite the evidence of my large house, two cars, zillions of possessions; and responsibilities and social activities that few would define as "simple."
I tell myself that my proclivity to eschew consumerism, walk my errands, use the library and take pleasure in simple activities buys me a golden ticket into the simple living community.
In was dropping off a check at the credit union the other day, (and yes, I walked) when the teller asked me what my 4th of July plans were going to be. I explained that my family would probably go to my mother's house for a barbeque, and then walk the two blocks over to watch the Oaks Park fireworks. She then told me about a fantastic fireworks display in Washington, going so far as to give me direction to this far flung locale.
Um. . .  no thanks, that kind of smacks of effort. I will pick the less pain-in-the-tuchus option 90% of the time. I'll go to the Oregon coast instead of Hawaii's, I'll assemble a meal out of what's in the fridge instead of buying fancy new ingredients and I'll choose a fireworks display that involves ten minutes of transit instead of an hour.
I have since decided that I am a card carrying member of the simple living movement. Because simple living gives me an excuse to shun an overly complicated life. I just happen to do so in big ol' house. Simple living is not just for single people who live in small spaces.
Katy Wolk-Stanley
"Use it up, wear it out, make it do or do without"