It's time again for Non-Consumer Mish-Mash, where I write a little but about this and a little bit about that.
The New vs. Old Debate
There is a very interesting debate going on over at Get Rich Slowly about items never to buy used. Sparked by a Wise Bread article that seems more writer's opinion than anything else, it's getting a lot of feedback from GRS readers.
I highly recommend taking a look, as people's "ick factors" vary so widely. Definitely good food for thought.
Throwing Money at a Good Cause
I am the first to admit that I can get a little tight fisted when it comes to money. I am so used to finding free or almost free options for this, that and everything, that it can be hard to actually spend out. (A Gretchen Rubin term, from her fantastic book,  The Happiness Project.)
Both my kids started out in a Japanese language immersion program in kindergarten. My 14 year old just finished eighth grade in the program, but my 12 year old left it mid-third grade. There was a lot going on at the time that I won't bore you with, and we've been mostly happy about the decision.
The 12 year old took a two month Japanese elective at the beginning of the school year, and has been pining to rejoin the program ever since. I had assumed that this was an impossibility, but the school's principal recently brought it up as an option.
Long story short, we are now paying for twice a week tutoring through the summer, with no guarantee that my son can learn enough to catch up with his old cohorts. But this is money well spent. My son is super jazzed to be learning Japanese again, and I feel that this is what our money is supposed to be available for. Not frittered away on first run movies, brand new clothing and expensive gift giving.
My son may not be able to rejoin the program, (three-and-a-half years is a lot to miss!) but he'll be so much further along than if he'd done nothing. And it most definitely won't happen if we don't throw some money at the problem.
Hunt, Gather, Scavenge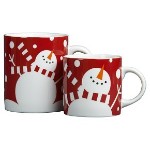 I don't know if the rest of the country is doing this, but Portland is in love with the "Free Pile." A pile of stuff, sometimes boxed, but often not of unwanted goods that people put in front of their houses with a hastily scrawled  "Free" sign. It's gotten to the point that it's hard to go anywhere without looking through at least a pile or two.
Just yesterday, I had walked to Fred Meyer to pick up a gallon of milk and some dinner fixin's. I tend to take different routes to and fro in order to increase my chances of finding something cool along the way. (Yeah. . .  I know, I'm kind of weird.) And sure enough, the route home walked me right past a pile of stuff on a parking strip that mostly looked to be mostly junk.
I quickly found two matching Crate and Barrel brand snowmen mugs that were in perfect condition. I brought them home, scrubbed them down and stashed them in my secret gift area. I can now officially say that I've got a head start on the boys' Christmas stockings. Free stuff and the feeling of being on top of the details of life. How awesome is that?
I most definitely would not have found them if I hadn't varied my walking route. So I guess that being weird pays off.
In case you think bringing home other people's unwanted stuff is filling my house with crap, here's a partial list of some of the items I've lugged home over the past year or so:
Still shrink wrapped 5″ X 7″ canvas, when my son immediately turned into a cool artistic piece.
A small black patio table, whose graceful curve perfectly matches my new rock wall.
A pair of Keen Mary-Janes that had some bright yellow paint on the soles. I scrubbed the paint off, and sold them for $5 at a garage sale.
A black Columbia Sportswear fleece jacket that fit my son perfectly. When he later lost that jacket, (the fate of most outer ware for this particular child.) it wasn't as upsetting as if I had bought it.
A variety of different terra cotta flower pots.
A variety of different plants.
A small painted wooden step stool that looks adorable in my front yard, holding a couple different pottted plants.
A plastic lawn chair, that sits in my sons' tree house.
A great floor lamp, (complete with shade) that I later learned was from Pottery Barn.
A cute mid-century bedside table that's currently on my to-paint list, but is currently in daily use in my spare bedroom.
I could go on and on, but I've got to get out of my pajamas at some point today.
Have you been lugging home other people's unwanted stuff? Or have been putting you own stuff out for others? Please share your thoughts in the comments section below.
Katy Wolk-Stanley
"Use it up, wear it out, make it do or do without"