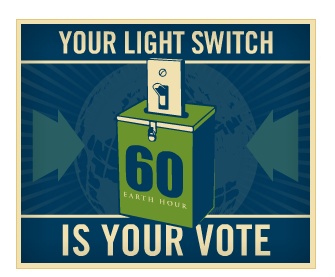 Today, March 27 marks the day that millions of people around the world will turn off their lights from 8:30 P.M. to 9:30 P.M.
The Earth Hour website describes this worldwide event as such:
"On Earth Hour hundreds of millions of people around the world will come together to call for action on climate change by doing something quite simple—turning off their lights for one hour. The movement symbolizes that by working together, each of us can make a positive impact in this fight, protecting our future and that of future generations. Learn more about how Earth Hour began, what we've accomplished, and what is in store for 2010."
This symbolic act will be easy for me, as my husband and sons are out of town for the weekend, so it will just be lonely ol' me, sitting in the dark.
Will you be participating?
Katy Wolk-Stanley
"Use it up, wear it out, make it do or do without."