Note: This contest is closed. Congratulations to "Namastemama" whose regifting story was chosen randomly.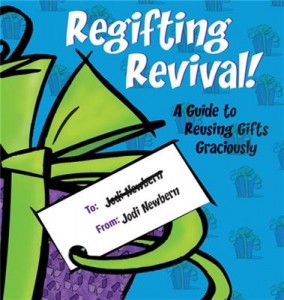 I have held a number of contents to win various items here on The Non-Consumer Advocate, because really, who doesn't like the excitement of winning stuff?
I got to feel this thrill firsthand when I was the winner of the book Regifting Revival: A Guide to Reusing Gifts Graciously, by Jodi Newbern, (Synergy Books.) The contest was held on Naomi Seldin's Simpler Living blog, and I shared a story of how I had regifted a wedding present for my father and step-mother's wedding.
And now it's time to regift this book to you, the readers.
To enter to win a copy of "Regifting Revival," please share a regifting story in the comments section below. The winner will be chosen randomly. Please enter only once, the contest is only open to U.S. residents. Contest ends Thursday, January 14th at midnight.
Don't have a good regifting story? Then make one up!
Good luck!
Katy Wolk-Stanley
"Use it up, wear it out, make it do or do without."