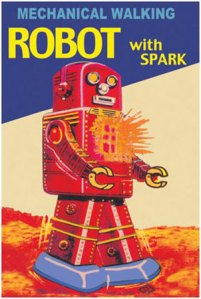 The following is a reprint of a previously published column. Enjoy!
With all the attention on hybrid cars, cycling and public transportation these days, it's easy to ignore the most obvious transportation option:
Walking.
It's highly fuel efficient, (just add cookies) and is accessible to most everyone.
I just found a cool website called, Walkscore that will calculate a 0-100 score of how walkable your United States/Canada neighborhood is. (Sorry, foreign Non-Consumers.)
The website describes itself as such:
"Walk Score helps people find walkable places to live. Walk Score calculates the walkability of an address by locating nearby stores, restaurants, schools, parks, etc. Walk Score measures how easy it is to live a car-lite lifestyle."
Okay. I live in an enviably walkable neighborhood. I'm but a scant few blocks from a school, the library, a park, grocery stores, coffee shops, art supplies, a UPS store, a gym, restaurants, plus much, much more. Really, I could become a relative hermit without difficulty. I'm feeling confident and smug.
So I punch in my address and get a score of "80?" Jeepers — what does a girl have to do to get a higher score? Last time I checked, that's a B-! Actually, it turns out that an "80" puts my house in a "very walkable" category. I can live with that.
Update: My "walkscore" is now 86, although I'm not sure what changed.
After I had inserted my info, a map popped up of my neighborhood with tiny icons for the different businesses, schools, parks, etc. Many were consumer rated, which was pretty interesting to read. There was a small amount of outdated info, but mostly it was up to date.
A friend tells me that real estate agents are starting to use this site to engage potential buyers. And that, fellow Non-Consumers is a positive. This means that the green lifestyle of alternative transportation is no longer considered weird.
Because we all need to be getting out of our cars and onto our own two feet.
What's your score? Can you beat me?
Let me know in the comments section below.
Katy Wolk-Stanley
"Use it up, wear it out, make it do or do without."