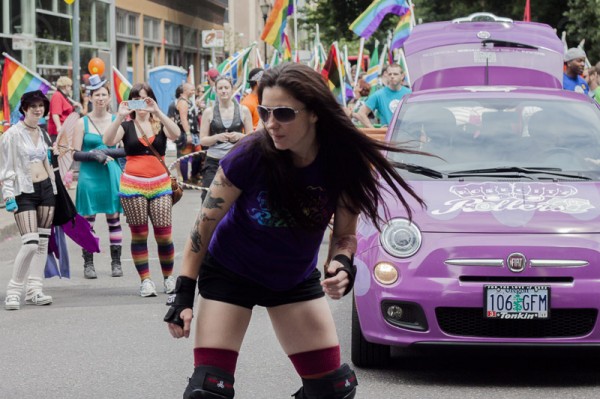 Although my last few days have been dull and centered around bundling up for warmth and avoiding leaving our cozy home at all costs, such is not the case for everyone. (Portland has been experiencing record low temperatures over the past four days.) I was told of two, count 'em two fantastic stories this weekend, where against all odds, people have been rewarded in the best possible way!
For off is my friend and neighbor Belinda, whose husband bought her a single raffle ticket to support Rose City Rollers, our local hipster roller derby league. You know, "Sure, I'll buy a ticket, happy to support you." We've all done it, and then we forget about it, because the odds of winning are miniscule.  But it didn't end there, because my friend actually won the grand prize of a brand-spanking-new Fiat!
She won a brand new car! A cute car, a purple car, a tiny car, but perfect car for her delightful family of three.
I am so happy for her!
The second story is from my friend Gerard, whose coworker, James Stevens went ahead and self published a novel he'd written years earlier for his daughters. And that book, Hatch (Dragons of Laton) is now a ginormous best seller on Amazon, and he was able to pay off his mortgage within a few months of publication.
Mind you, writing and self-publishing a novel is an tremendous effort, some would even say easier than buying that single raffle ticket, but there's just something so wonderful about stories like these.
Good things happening to good people.
In a world where disturbing and bad news can be a daily occurrence, these feel good stories warm my heart.
Now, to get to work on my book proposal so my rags-to-riches story can warm your heart!
Do you have any great stories to tell? Please share them in the comments section below.
Katy Wolk-Stanley