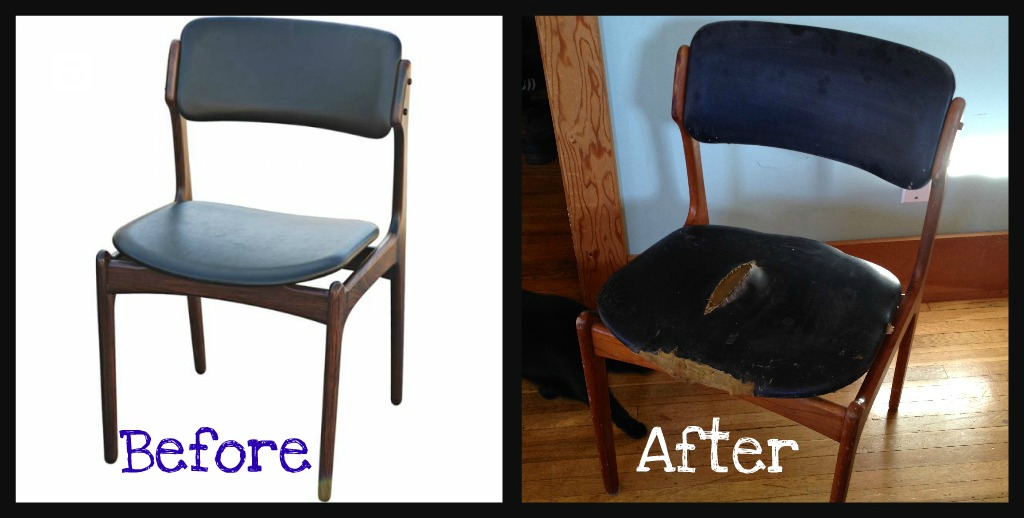 I normally don't post on Saturdays, but I'm somehow in the mood. Enjoy!
Today I am:
Lamenting over having ruined a O.D. Mobler chair in my manky basement. I bought it for $15 in perfect condition in 1993 when I lived in Albuquerque, New Mexico. The wood has been damp, the vinyl is ripped and it's super dented up. I'm thinking I can be brought back to life, but it will never be what it once was. Crap! (I see that they sell for up to $900 now, so . . . double crap!)
Selling both a midcentury typewriter and dining table on Craigslist. Great finds from Goodwill that will find new homes.
Turning down an invitation for a goodbye party for a co-worker because it's being held at an extremely expensive restaurant. The estimate for cost is $40 per person, and will likely be more. I'll figure out my own way to say my goodbye.
Going to Costco to pick up two new pairs of glasses with my eighteen-year-old son. Their youth discount was for "eighteen and under" rather than "under eighteen," which pleased me to no end. Costco is a super reasonable place to buy glasses, and they took our insurance, which I thought they didn't. I'll probably pick up another box of their clementines, as the last batch were excellent, and didn't dry out immediately like the grocery store ones have been lately.
Going to make myself do a big grocery shopping trip to Safeway, as I have a $10-off-$50 coupon. I hate grocery shopping, but I never regret having done it.
Thinking we should go to our friend's Christmas tree farm and cut down a tree. However, it's really cold out, and I would dearly like to procrastinate this errand.
Going to bake up the last of a batch of oatmeal cookie dough. I make a big batch of the dough in the beginning of the week, and then bake up the cookies a dozen at a time for school lunches. This way, they don't get gobbled up and leave me hanging for school lunch components.
Now your turn. What are you doing today?
Katy Wolk-Stanley