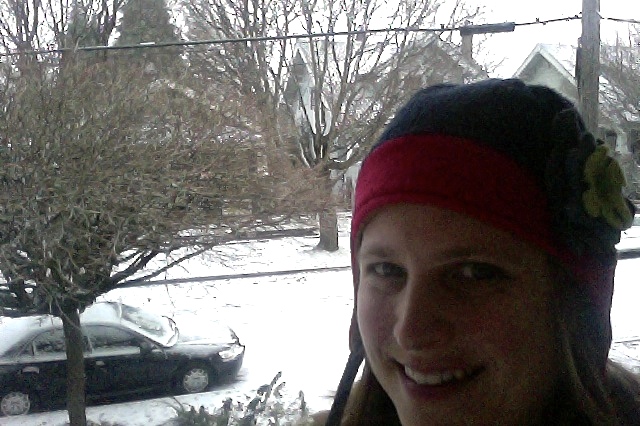 I lead a deliberately uncomplicated life. Sure, it can get busy sometimes, but mostly things are pretty simple here at Casa  Wolk-Stanley. As as a result of my keeping' it simple life, I'm able to get the most inordinate amount of excitement from the smallest of things.
Today I woke up to a light dusting of snow, and from my reaction you'd think there was a foot of snow on the ground. But the amount didn't matter, as it was exciting. Period.
I started to think about how the little things in life still give me the greatest of pleasure, whether it's a long awaited library book or the perfect pair of socks. (Neither too thick nor too thin, a non-binding cuff, wooly, but not itchy and a cute pattern that isn't too loud.)
I do believe that there's a direct correlation between living simply and finding happiness with life's little pleasures.
The perfect example is my how my family very rarely chooses the restaurant route for dinner. And because eating out is a infrequent treat, it makes it very special and memorable when it does happen. And when my mother ordered too much Chinese takeout and gave us her leftovers for last night's dinner? That was pretty exciting!
Because we never get Chinese takeout, we were more than happy to take my mother's leftovers.
Because we keep our lives simple, life's little pleasures are still . . . well . . . pleasurable.
Do you feel that a simple life is correlated to being able to appreciate life's little pleasures? Please share your thoughts in the comments section below.
Katy Wolk-Stanley