The following post first appeared over at ClarkHoward.com
You might think of your dishwasher as a device for washing, well . . . dishes, but your dishwasher is actually a magical clean-just-about-everything, even-stuff-others-would-consider-disgusting machine.
Need an example?
I used to put my son's potty seat through the dishwasher. Yes, his potty seat. In my defense I was working full time night shifts as a labor and delivery nurse and had two boys under the age of three. To say I was exhausted would be an understatement. This particular potty seat came apart into separate components with frustrating nooks and crannies, and it needed to be cleaned on a regular basis. So yeah . . . I would chuck it into the dishwasher, which horrified my well rested husband. And you know what? Nobody got sick from the practice and I can't recall that anyone died. (I never washed it with dishes, and I always ran it empty afterwards.)
With two sons off to college, my days of potty seats are thankfully in the past, but that doesn't mean that my dishwasher is only for dishes and silverware. Dishwashers are amazing tools, able to clean more than you ever thought. Here, let me take you on a room by room tour of what you can clean in your dishwasher.
Kitchen
Stove hood filter. It's clogged with trapped grease, so pop it into the dishwasher.
Stove knobs, as well as the grates and drip pans.
Garbage can. You'll likely need to remove the top rack, but unless you have a huge bin, it'll likely fit in the dishwasher. (Plastic or metal? Yes! Wooden bin? No!) Can't get the whole can into the dishwasher? Then just wash the lid.
Dish drain. This will likely fit over the top rack and you'll be amazed how much better it'll look.
Glass light fixture shades. These get dusty, greasy and buggy, so unless your fixture is a priceless antique or features hand painted details, put it in the dishwasher.
Broom and dustpan. No, you're not going to fit an entire broom into the dishwasher, but the handle can usually be unscrewed. Just make sure to place it upside down to not splay the bristles. (This tip is for plastic fiber brooms, not natural fiber!) While you're at it, put the mop through as well.
Play room
Plastic toys are perfect candidates for the dishwasher, although you may need to toss them in a mesh laundry bag to keep from scattering. If toys are hollow, it's better to not put them through the wash, as trapped water can be impossible to remove. You don't want mold growth!
Bathroom
The wastebasket. Again, only if it's plastic or metal.
Cosmetics brushes. Just pop them in the silverware basket.
The shower caddy. It's likely crusted with old soap and shampoo, so put it through the dishwasher.
Hairbrushes and combs. But make sure to first remove your old hair.
Bedroom
Heat register covers get both dusty and grimy. A quick run through the dishwasher can freshen them up. (Do not put them through the wash if they're brass plated.)
Flip flops and Crocs can also get a new life from a run through the wash.
Backyard
Gardening tools can benefit from a trip through the dishwasher. Just be sure to thoroughly dry afterwards to avoid rust. Again, no wood handled tools!
Laundry/Utility room
Dryer lint trap. A clogged lint trap is a fire risk, so run it through the dishwasher when you notice the mesh to be clogged.
I know it's not officially recommended, but I've put my vacuum cleaner filter through the dishwasher a few times. Just be sure to first brush off any extra debris from the filter. Let dry in the sun before using it again.
Vacuum cleaner components. The hand held brush, even the roller itself can benefit from a cleaning.
Sports gear
If you've got sports gear, you do the world a favor by keeping it clean. Everything from baseball caps, to shin guards to helmets can go through the dishwasher. While you're at it, go ahead and throw those old sneakers in as well.
Do NOT put in the dishwasher
Anything wood. Extended exposure to water removes protective finishes and can split the wood. Examples would include knives, wooden utensils and any tool with a wooden handle.
Cast iron. Your cast iron pans thrive on multiple thin layers of oil to keep them seasoned and non-stick. Instead give them a quick scrub under running water and then heat until the water evaporates.
Anything with electronic components. You might think this one is an obvious tip, but it still needs to be said.
Gold trim dishes. Great aunt Ethel's fancy plates will lose their ornate gold accents if run through the dishwasher. Instead, wash these dishes by hand.
Bonus tip
You can remove the top rack of your dishwasher by taking out the clips that hold it in place. Just pinch and pull up, which allows the top rack to roll right out. This allows for tall items to go through the wash, perfect for buckets and wastebaskets! Maybe even a diaper pail.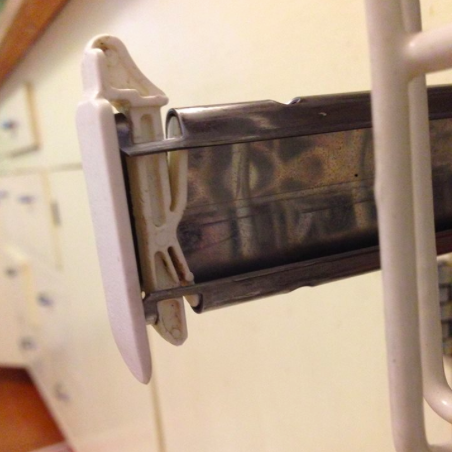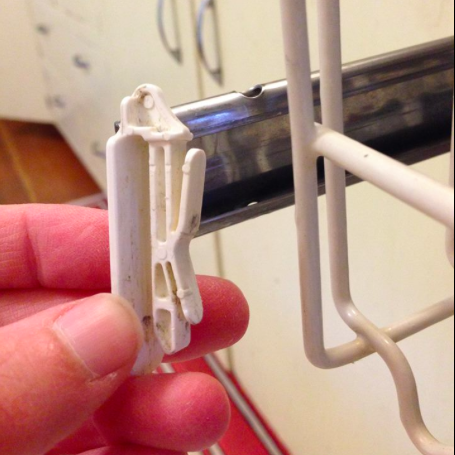 Conclusion
You may choose to keep your child's potty seat as far away from your dishes as possible, (and frankly I wouldn't blame you if you did) but you'll do yourself a favor if you start eyeing your dishwasher as the magical cleaning device that it is!
Katy Wolk-Stanley