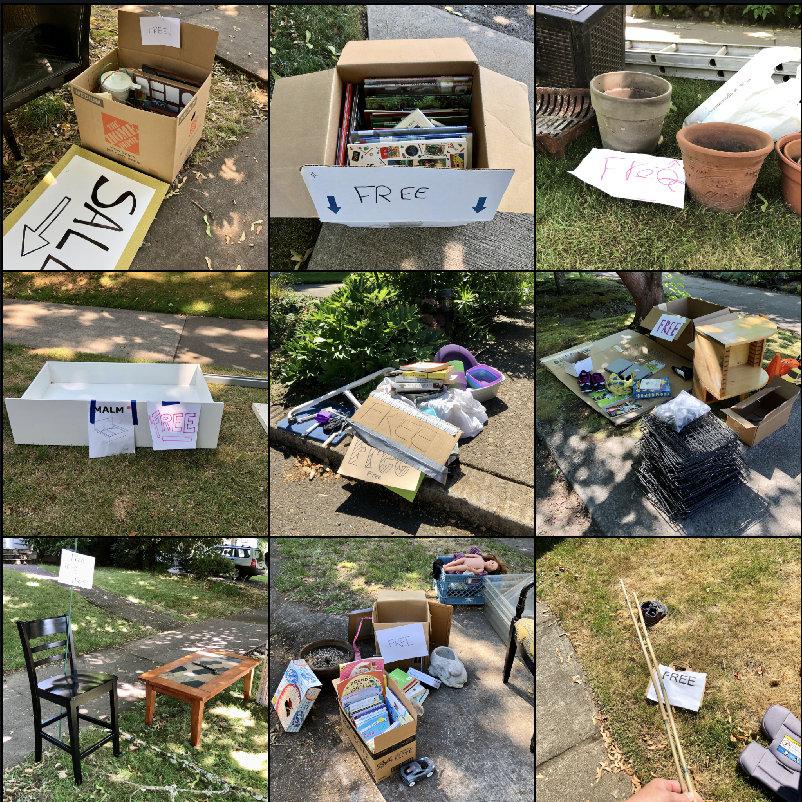 My dearest darling,
I see you from afar, drawing me in with your 90°angles. Your open flaps undulating in the breeze — whispering my name.
Katy . . .
I cannot resist your siren song. I look furtively around, who will bear witness to my digression? I act casual, as if it's a normal thing to rummage through your unknown depths. Will your contents be clean? Will my mercenary nature be revealed as I fill my arms with your bounty? Will there be unexpected moisture?
You're not discreet, so why should I be? I spy others who unabashedly reach into your depths and yet I hesitate. Those who've abandoned ownership of your soul should not stand in judgement of my need.
Oh, my need . . .
A flowerpot, filthy enough to bring a blush to my cheek, a tea cup containing the dried  leaves prognosticating our future, a scratched up frame to display a fleeting moment in time; and the books — so many books! They tell tales as intimate as the love we continue to share.
My home is a testament to our love. What to others may not draw the eye, I know to be evidence of our deep and abiding passion. The belongings to flesh out my world however much my accounts bulge with riches. For it matters not when your love is given as untethered and free as the birds who look down upon us from the azure skies.
You are forever and always my love, the receptacle to my heart. My free box.
Like Non-Consumer Advocate love letters? Then CLICK HERE to read through the archive of every single one I've written since 2008. My favorite is the very first one that I wrote.
Katy Wolk-Stanley
"Use it up, wear it out, make it do or do without."
Click HERE to follow The Non-Consumer Advocate on Instagram.
Click HERE to join The Non-Consumer Advocate Facebook group.