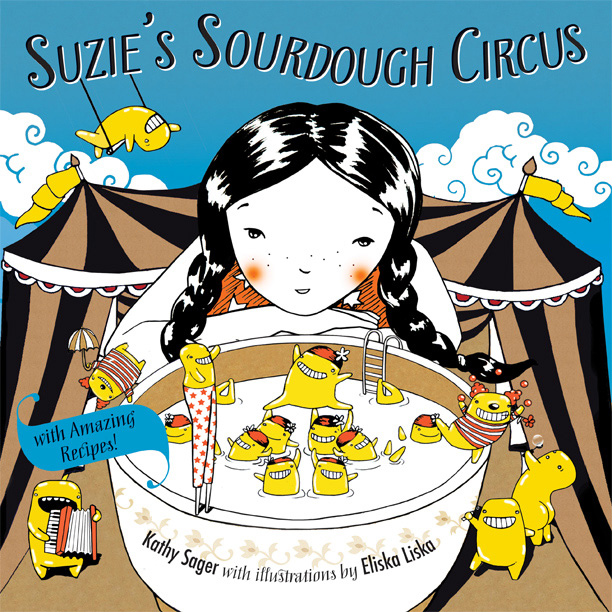 I worked the last few days, and was pretty tired by the time I came home yesterday. However, I was immediately perked back up by the appearance of not one, not two but three packages sitting in my entryway! Now, to give you a little perspective, my entryway not usually the resting place of wonderful packages from far away lands, but rather is a dumping grounds for bursting back backs and shoes of all size and grade of muddiness.
What was the occasion? Well, besides it being my older son's 16th birthday, (Happy birthday, Colin!) apparently it was International Send Stuff to Katy Day. My packages contained:
A tube filled with movie theater lobby posters from such classics as Real Steel and Avengers 4. This was a gift from Angela, my Compact buddy and creator of the blog My Year Without Spending. Angela works in film, and has sent lobby posters to my kids through the years, which are always very fun to receive.
Thank you Angela!
A copy of Suzie's Sourdough Circus, which I will be using for a blog giveaway. This adorable and beautifully written children's book is the creation of Kathy Sager, who was inspired by my own sister's sourdough starter and accompanied stories of baking bread with our father. Come back on Monday, when I'll be starting the giveaway!
A huge box containing the book, Brandwashed: Tricks Companies Use to Manipulate Our Minds and Persuade Us to Buy by Martin Lindstrom. Again, another book to use as a giveaway. However, instead of coming in the usual padded envelope, this book was nestled in three individual boxes, which included a wealth of puffy packaging, as if the contents were made from the thinnest of porcelain instead of paper.
What the what?
It turned out the the actual book was slotted into a fancy schmancy inner box that included a small video screen which plays publicity videos about the book. And I'm not sure how I will be using this particular feature, but the box also has a computer port. (Seriously, with the exception of a certain lack of flying cars, this is what I thought the future would look like when I was growing up.)
I actually prefer to receive two copies of books for giveaways, so I can read and mark up one copy one, and then send out a pristine version. But since this particular book came with so. Much. Stuff, I think I'll make do with the single copy.
I do have to say that I'm certainly  intrigued to delve into this book.
And I also have to say that I wish every day was International Send Stuff to Katy Day.
Katy Wolk-Stanley
"Use it up, wear it out, make it do or do without"
Click HERE to follow The Non-Consumer Advocate on Twitter.
Click HERE to join The Non-Consumer Advocate Facebook group.