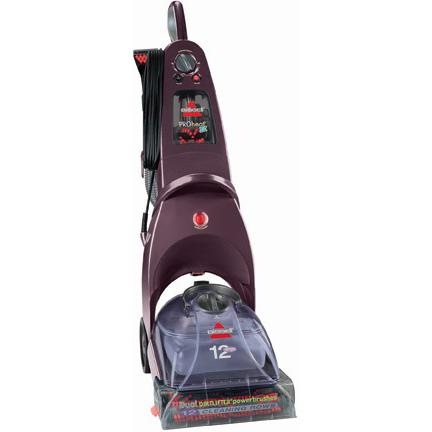 Today, I awoke to this statement from my younger son:
"Mom, I think a cat peed on that chair."
Which of course, was an upholstered chair. Specifically, a wonderfully comfortable vintage chair that I picked up at Goodwill for $15. It made sense, as my son had fallen asleep in the spare bedroom last night, and one of our cats likes to snooze underneath the bed in that room. And of course, I shut the door to that room without making sure it was cat-free.
Luckily, I always keep a bottle of enzymatic cleaner on hand. But this incident is pushing me over the edge of feeling the need to use a rug shampooer. Unfortunately, I don't actually own a rug shampooer, which puts me in a position either renting or buying one. (Although my first choice is borrow one, none of my friends seem to actually own said rug shampooer.)
So I researched my options:
Buying a new rug shampooer costs $199.
Renting a rug shampooer (with upholstery attachments) costs $28.
Buying a "used once" rug shampooer through Craigslist costs $75+.
Obviously, buying a new shampooer is out of the question. And although renting a shampooer would be my cheapest out-of-pocket option, it would only meet my needs for today. My number one choice is to buy a used shampooer, as I would only have to use it three times to make it pay for itself. Plus, my neighbors, friends and family would then be able to borrow it from me, so it would benefit more than one household.
However, I sent an e-mail to a seller and called her number, but it turns out she's out of town right now and won't be back until tomorrow. So I sent another e-mail to another seller, and am currently sitting here twiddling my thumbs and awaiting a reply.
It would be sooo easy to just drive the couple of blocks to the grocery store and be done with it. And it would certainly be easy to shell out the big bucks and just buy a brand new shampooer. But I am at a point where I would like to own a shampooer, and I certainly do not relish having to sell a kidney to make this happen.
Buying used can be a real pain in the ass. 
However, putting in the extra work of buying used will save me $125, plus it will directly result in one less shampooer being manufactured, shipped, and packaged. So yeah, it's worth it.
Do you put in the extra work to find used products, are are you in the "this too much trouble" camp? Please share your thoughts in the comments section below.
Katy Wolk-Stanley
"Use it up, wear it out, make it do or do without"
Click HERE to follow The Non-Consumer Advocate on Twitter.
Click HERE to join The Non-Consumer Advocate Facebook group.