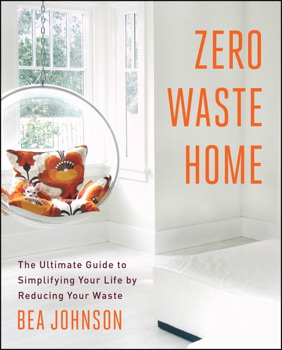 Would you be interested in participating in a Non-Consumer Advocate Zero Waste Week? I am very inspired and intrigued by Bea Johnson's Zero Waste lifestyle, but am hesitant to make a full commitment. I guess my qualm is that I'm pretty sure it would cost my family more money. I know that Bea Johnson says her family crunched the numbers and that they're saving money, but her before would be very different from my before. (I am muy excelente at saving money on groceries, and yes that does include some packaged food!)
Just last night I was driving my fifteen-year-old son home from soccer practice, and I wanted to get him a treat. The poor kid had spent all day sitting in school, an hour at the library for private Japanese tutoring and then two hours at soccer practice. And to top it all off, dinner had been Caesar salad, which I  know would not be enough to sate his ravenous appetite. My first inclination was to drive him through Dairy Queen for a Blizzard, but then I started to think about the garbage that would create. So instead we headed home and I whipped up a batch of waffles from scratch. Flour, baking powder, salt, eggs, butter and milk. Ingredients we already owned, with almost completely recyclable packaging.
Was there any complaint? Hell, no!
Challenges I can already see would be the Luna bars and Greek yogurt my husband takes with his work lunches. (He really didn't like my homemade yogurt, although I could strain it for a less runny consistency.) Perhaps I could bribe him with promises of  microbrew growlers from The Hawthorne Hophouse . . .
I suppose I already have the answer to this question as there are currently 479 entries to win one of five copies of Johnson's Zero Waste Home: The Ultimate Guide to Simplifying Your Life by Reducing Your Waste , which is a record number for this blog!
If you're interested in participating in a Zero Waste Week, please write your name in the comments section below. We will be begin on Monday, April 15th.
And please, someone help me break the news to my husband, who already feels like his home life is already just one large blog experiment.
Lucky guy.
Katy Wolk-Stanley