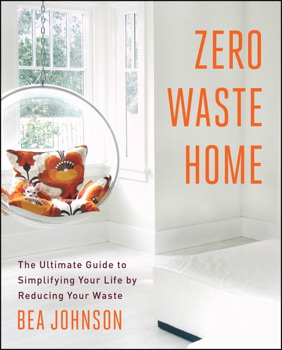 Tomorrow starts The Non-Consumer Advocate's Zero Waste Week, but I wanted to switch my mind over a few days in advance. So I spent the last few days practicing Zero Waste and figuring how to get through the week without going insane and eating nothing but bulk purchased oatmeal and lettuce. I want to see how much of what my family normally buys can be switched over to their Zero Waste counterparts.
Keep in mind that Bea Johnson of Zero Waste Home  puts "refuse" before the normal three R's of "reduce, reuse, recycle." So even though a fair amount of the packaging we normally bring into our home is either recyclable or compostable, I will attempt to refuse waste of any kind for the week.
My family of four already produces less garbage than the average American, (29 pounds per week) and we're able to get by with every other week pickup of our 32-gallon can which we share with the three-person family next door.
I spent the weekend sourcing Zero Waste options for a few of the things that my family buys on a regular basis, and here's what I found. (I am lucky to live in a urban neighborhood that provides multiple shopping options, which I know is not the case for everyone.)
Meat/Fish — It would easy to go vegetarian for the week, but that is simply not how my family eats. I have asked before about using my own containers at the New Season's Market meat counter, but the answer is always that health regulations forbids it. And so I bring home my sausages in plastic-coated paper that immediately goes into my garbage. However, I spoke to a manager and came up with a acceptable alternative, which is to use their wheat-based compostable containers from the deli for my meat purchases. They are required to add a "how to safely prepare meat" sticker to every purchase, so I saved one and will see about reusing it. The manager did suggest that I could buy my meat from a smaller company, who might be less stringent about their rules, although I like that New Season's is walking distance from my house, which greatly simplifies my life.
Shaving soap — My husband and older son shave on a daily basis and use an old timey shaving soap and a bristle brush. However, the packaging for the soap we normally buy includes both a paper box and a hard plastic shell for the bar of soap. I've been meaning to find an alternate option for awhile, and was happy to find that we were almost out of soap at the beginning of this challenge. I walked down to Escential Lotions and Oils in my neighborhood and found a zero packaging option of Apiana Alpine Milk Soap. Priced at $5.50, I would never buy it to use as regular soap, (The paper wrapped Pure & Natural soap we normally buy is 3/$1) but for shaving soap, the quality and extra cost is easily rationalized. And the best part? The hexagonal soap fit perfectly into the Goodwill mug we use for shaving soap!
Ice Cream — Ben and Jerry's is just across the street from the soap shop, so I stopped in and asked two different employees if they would allow me to bring my own container in for a pint of ice cream. The answer was "Sure, I don't see why not," so I returned after dinner with my garbage picked glass container and a sweet tooth. Unfortunately, the employees I had spoken to earlier were off shift, and the current shift was wary about my request. Luckily, they came over to my side after I explained my request, (I was trying for Zero Waste, rather than to scam extra ice cream.) And for the $6 price normally charged for a "hand packed pint," I was able to buy enough ice cream for dessert.
Beer — Portland's pubs all have the option to buy "Growlers" of beer, which are refillable glass jugs for beer. Unfortunately, they cost $8 apiece, but I put out a call on Facebook, and my friends Heather and Dave came through with some loaners for the project. (I rarely drink myself, but my husband enjoys a couple beers per week. And since I knew this Zero Waste Week was going to complicate his week, I thought it would be nice to reward him with a few Zero Waste treats!) My husband happily walked his growler to the pub and had it filled with 64 ounces of a something-or-other IPA ale for $15. (Mind you, it should last over the course of a few days.)
Maple Syrup — In the same vein of bribe my family with treats, I filled my vintage syrup container with bulk maple syrup at New Season's Market. (I will make waffles after today's multiple soccer games.) The cost was $9.99 per pound, and I was able to buy exactly the amount I wanted. This is a nice benefit when buying bulk, whether buying a small amount of a seldomly used spice or ready to eat snacks from the bulk bins.
Milk — I normally buy the humane/blah-blah-blah gallons of milk from New Season's, but they come in a plastic jug. (Taken by curbside recycling.) I bit the bullet and paid the $1.50 deposit for glass-bottled milk. Priced at $4.50 for a half gallon, this was yet another example of how buying Zero Waste does cost more money. However, I'm hoping to include enough Zero Waste less-money options to balance it out. Unfortunately, we already practice most of the Zero-Waste-will-save-you-money options, so this may prove to be a pricey week.
There are many Zero Waste bulk-purchases that my family doesn't choose, usually because it costs significantly more than buying from Costco, with coupons or on sale. (Olive oil, sugar, honey, flour and cereal come to mind.) I will continue to cook from our pantry for the week, but only if those items have a Zero Waste replacement. This may sound like a copout, but I just can't get over the hypocrisy of buying something that we already own.
I may appear that I'm simply investigating food packaging, but I will also be exploring waste from non-food perspective as well. Whether it's junk mail, paper products, individual use products or overly packaged household goods. I will also explore how having a less cluttered home contributes to less waste.
I am looking forward to the week, to learning a thing or two and learning how Zero Waste Week is going for you readers. And I imagine that many of this week's Zero Waste experiments will work their way into our permanent routines.
Wastelessly yours,
Katy Wolk-Stanley