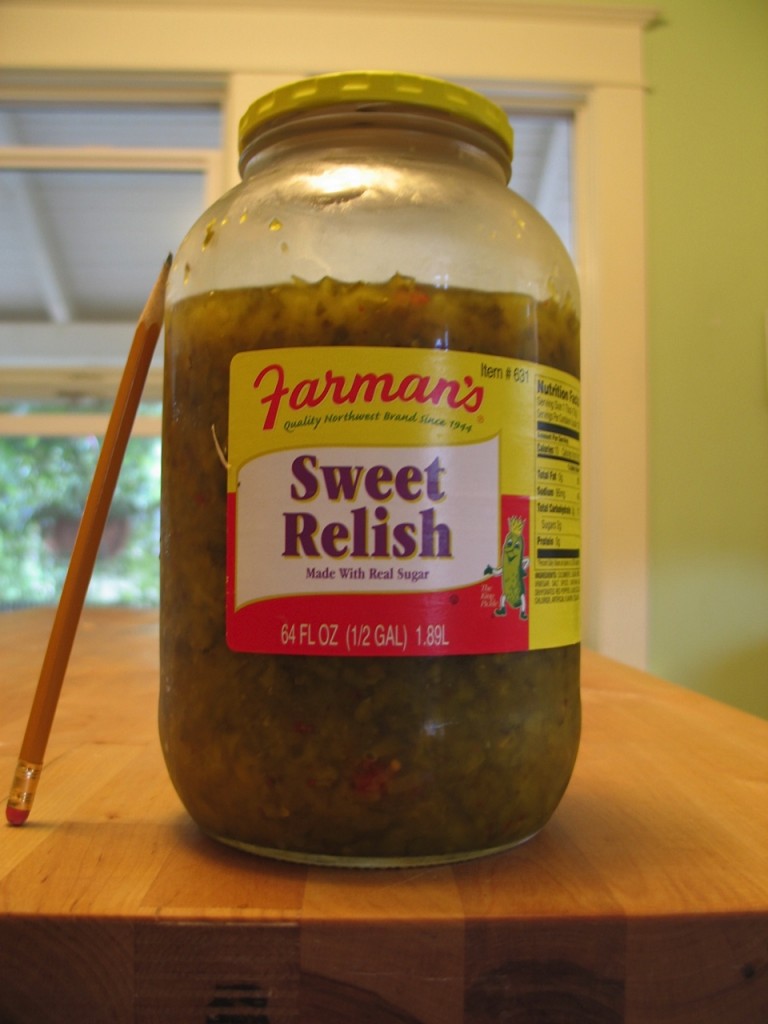 Note: I ended up placing a post on my local Freecycle group, and was able to get someone to come and take away the offending jar of relish. Hooray!
My husband Dale volunteers approximately 30 hours a week for our local recreational youth soccer league. He's on the non-profit board, he coaches and mentors; as well as overseeing the uniforms and merchandising. And last week he organized a huge soccer clinic for the league's 8-10 year olds with Portland Timbers player Sal Zizzo. The clinic was a giant success, and featured a big ol' spread with hot dogs, fruit, veggies and the inevitable condiments.
Unfortunately, the leftover food came home with my husband, which means I am the proud new owner of a ginormous half-gallon jar of pickle relish.
Not exactly an ingredient for too many recipes. It's currently sitting front and center in my already fit-to-burst refrigerator, using up prime real estate and offering up no solutions.
I know I could pour it into the compost or post it on Freecycle, but I though I would ask you, the readers what you would do with the relish?
Seriously, I am loathe to toss perfectly good food, but at the same time I do not relish the idea of actually eating this glop.
So . . . What the heck should I do with this relish?
Katy Wolk-Stanley
"Use it up, wear it out, make it do or do without"
Click HERE to follow The Non-Consumer Advocate on Twitter.
Click HERE to join The Non-Consumer Advocate Facebook group.