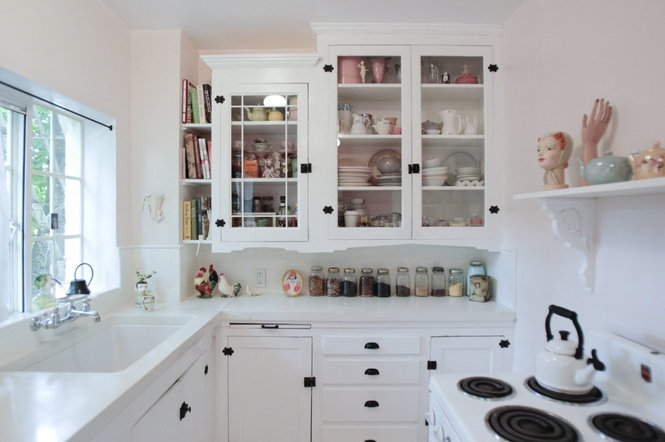 Custom hammered copper vent hood! A pot filler spigot above every stainless steel stove! And let's not forget granite, granite granite!
Have you had enough of ridiculous, over the top kitchen remodels? Me too! Which is why the featured article in today's Homes and Gardens of the Northwest section of The Oregonian was a breath of fresh air. Why? because amateur designer Julie Thompson's $4000 condo kitchen remodel  did not feature stainless steel or granite, and it was partially constructed using bit and pieces from her neighbor's kitchens remodels.
"While other residents of the 30-unit condominium building were busy remodeling their kitchens to look ultramodern, Thompson was remodeling hers to look old — but in a way that is tailored, sophisticated and functional. In her quest to create an updates and authentic-looking space, she even salvaged pieces from other parts of the building and refurbished them."
At a time when the average "mid-range" kitchen remodel cost has crept up to $56,000, it is time to put a stop to kitchens that cost three times what our parents paid for their houses.
So repaint those existing cabinets, refinish those floors and maybe, just maybe you can even scavenge among the discards from your neighbor's swanky remodeling project.
You are not going to pay the average amount for your kitchen, because you are not an average American.
You're a Non-Consumer.
Katy Wolk-Stanley
"Use it up, wear it out, make it do or do without"
Click HERE to follow The Non-Consumer Advocate on Twitter.
Click HERE to join The Non-Consumer Advocate Facebook group.