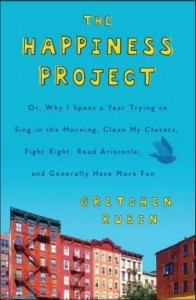 Gretchen Rubin's The Happiness Project is a terrific book. No, I take that back. It's actually a fan-flippin-tastic book! Not only did I thoroughly enjoy it while reading the book, but it's resonated with me ever since. Sadly, it was a library book, so I no longer have it in hand. But thanks to the magic of the interweb, I do have access to Rubin's Happiness Project blog, from which I can happily glean all sorts of information.
Rubin conducted a 12 month long happiness project focusing each month on a different "Personal Commandment," of which my favorite was to:
Recognizing who she was, and importantly, recognizing that what makes other people happy was not necessarily what made her happy.
This is very true for me.
What I like to do is very different from a lot of my peers. I don't enjoy knitting, (I know  — this is blasphemous!) I'll never sign up for a "fun run" and there's not enough tea in China to make me join the PTA. I do enjoy spending hours a day working on the blog, (for which I receive a pittance in compensation) would read for hours if people would let me and would rather go for a walk with a friend than sit with her in a bar or coffee shop.
Recognizing who we are is an important component of self-awareness and happiness.
Click here to read Gretchen Rubin's  blog post about how the realization that she'll never be that person who goes to hear jazz at midnight actually saddened her.
I will continue to write about this book, and will be doing a book giveaway in a few weeks. I would like to do a series of posts about this book, so let me know if this is something you'd be interested in.
Katy Wolk-Stanley
"Use it up, wear it out, make it do or do without"