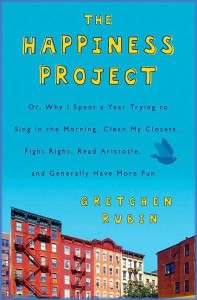 Happiness. Easy for some, a challenge for others. What makes one person happy can be an empty experience for another. But one thing is certain, happiness is a goal we all work towards. Whether it's the joy of the perfect manicure or the luxury of a perfect nap, happiness is considered by many to be the meaning of life.
Gretchen Rubin explores the enigma that is happiness in her book  The Happiness Project, which chronicled her year long project.
The fine folks over at Harper Collins are sending a copy of The Happiness Project for one lucky Non-Consumer Advocate reader. To enter this giveaway, list five things in the comments section that make you happy. I will randomly choose a winner Thursday, April 8th at midnight PST. U.S. residents only, please enter only once.
I will start you out with my own list:
Knowing that I was able to pay for my son's trip to Japan with odds and ends of extra money.
Clearing clutter from my home.
Having something to look forward to, like a walk with a friend or a long awaited book that's come in at the library.
My warm sheepskin slippers.
When my kids have no homework.
Okay now, it your turn. What makes you happy?
Katy Wolk-Stanley
"Use it up, wear it out, make it do or do without."
Click here to read Rubin's Happiness Project blog.
Click here and here to read  my previous columns on what makes me happy.