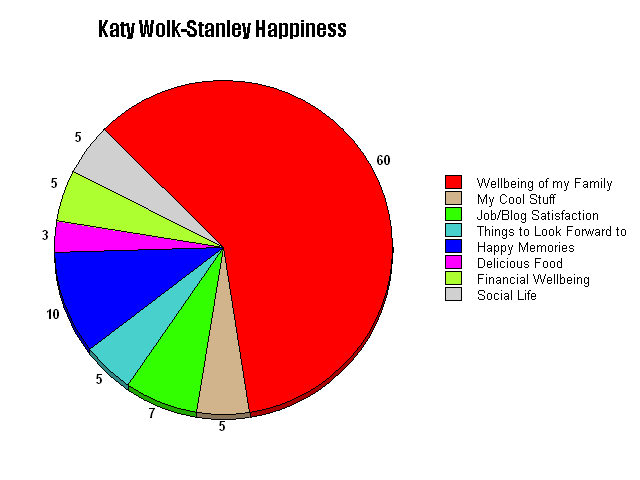 The NY Times ran an article on Saturday titled, "But Will it Make You Happy?" The author, Stephanie Rosenbloom focused on Portland blogger Tammy Strobel who made the decision to embrace the simple living movement. She went from working as investment firm project manager in California, to full time blogger and freelance writer in Portland, Oregon. In the process, she:
"Began donating some of their belongings to charity. As the months passed, out went stacks of sweaters, shoes, books, pots and pans, even the television after a trial separation during which it was relegated to a closet. Eventually, they got rid of their cars, too. Emboldened by a Web site that challenges consumers to live with just 100 personal items, Ms. Strobel winnowed down her wardrobe and toiletries to precisely that number."
Yes, you read that right. 100 personal items.
This decision seems to have been the right one for Strobel, as she reports to be much happier with her current life. I applaud this fellow Portland blogger, but want to counter with the idea that happiness is not just for those who go to the extreme.
I am happy. I am happy in a big house. I am happy in a big house with much more than 100 personal possessions.
Don't get me wrong. I am not an advocate of clutter, nor am I enamored of each and every object that has snuck its way into my house. I am engaged in a never ending battle against Stuff, crap and general where-did-this-come-from-ism. But I do not believe that having a lot of stuff bars my entrance into the happiness club.
I love setting the table with my Fiestaware. I love that I have enough to throw a dinner party without hitting the paper plate aisle. I love my shelf of books written by family and friends. I love the framed photos of my kids, and I love having enough extra stuff to host house guests and exchange students.
Rosenbloom goes on to interview happiness researcher Professor Lyubomirsky:
" 'We buy a new house, we get accustomed to it,' says Professor Lyubomirsky, who studies what psychologists call 'hedonic adaptation,' a phenomenon in which people quickly become used to changes, great or terrible, in order to maintain a stable level of happiness.

Over time, that means the buzz from a new purchase is pushed toward the emotional norm.

'We stop getting pleasure from it,' she says."
I absolutely agree with Lyubomirsky's premise, but want to add a personal note. When I buy things, I generally pay pennies on the dollar, and end up adding high quality and unique belongings to my household. And when I use these items, I get a zing of happiness that does not wane over time. Examples being my $125 antique couch, $18 Maxfield Parrish framed print or my $47 oriental rug. It may sound shallow, but these possessions are part and parcel of my happiness.
Are they the biggest wedge in my happiness pie chart? Of course not. But I just wanted to point out that happiness and stuff can coexist.
Do you agree, disagree? Please share your thoughts in the comments section below.
Katy Wolk-Stanley
"Use it up, wear it out, make it do or do without"