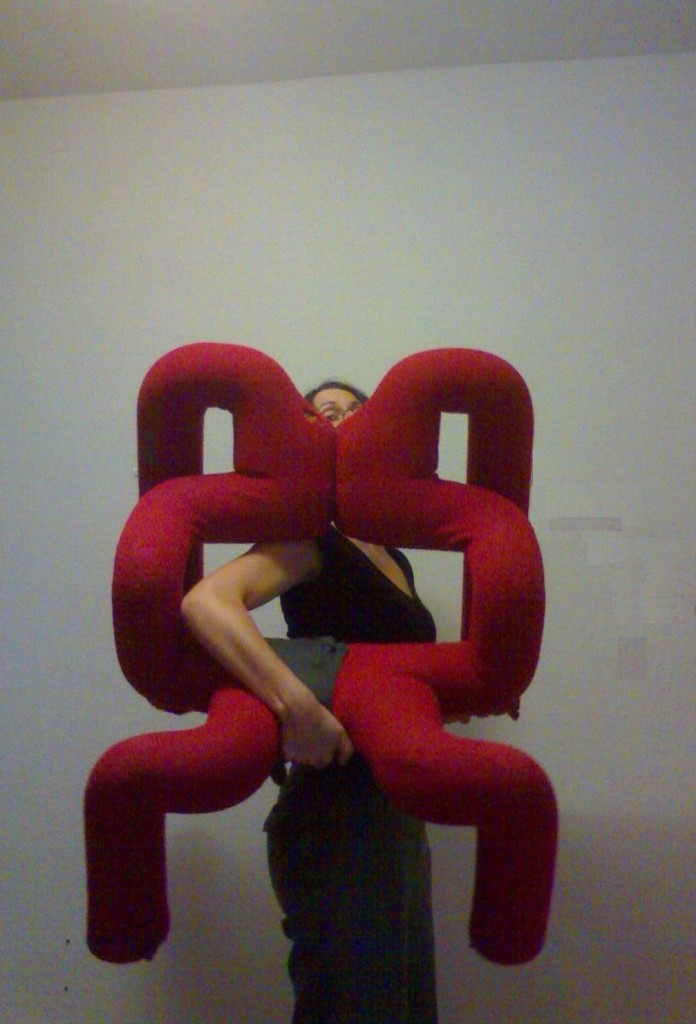 It's time again for another installment of Fabulous Frugal Finds. An ongoing series where you, the reader send in stories and photos of your brag-worthy frugal scores.
Today's Fabulous Frugal Find comes from Iris, who proves that Europe is just as rich with curbside diamonds as North America.
I came across my fabulous frugal find during an evening walk with a friend, right by the curbside. On first sight we weren't sure WHAT it was – two meandering tubes, covered with a bright red knitted fabric? It turned out to be a just as unconventionally as beautifully designed armchair. There was some moth damage and a bigger tear covered with duct tape – but still, a beauty!

I immediately fell in love with it, but forced myself to wait half an hour for a potential owner to appear – after all, maybe someone had just dragged it outside to sit and enjoy the evening? Time enough for me to sit and explore the various positions it offered – all quite comfortable! Then I took it home, did an anti-moth treatment, mended the small holes and am contemplating to maybe exchange the grubby foam padding and get an entire new 'knit sweater'.

I rent a small room in a shared apartment with near-to-no furniture, so that red armchair is the definite center piece – plus being a great conversation piece with every visitor: "Woah, what's that? Can I sit on it?" Yes, you can 🙂

I'm by far no design expert but it definetly looked like something special. About a year after finding it, I got curious and mailed the editors of a nice design blog a picture, asking if maybe they knew its whereabouts? Turned out they did – and indeed it is a 1970s Norwegian design piece, the Terje Ekstrom Ekstrem Armchair.

And to chime in with the previous discussion about brands – do I like my armchair any better, now that I know the name? Well, I thought it was cool from the very beginning, but it definetly adds a fancy touch. And yes, I did smirk when my neighbour, who previously had turned up his nose at my 'curbside junk', now offered 500€ to buy this cool retro design piece.
I am uber envious of Iris' curbside find, as it's not only a bizarre and fantasic object d'chair, but she can always sell it when she tires of its tubular goodness. My goal when I thrift store shop/curbside glean is to find stuff that is useful in the here and now, and can later be sold when I no longer need/want it. And I think that this chair definitely falls into that category.
Great find Iris, thanks for sharing with The Non-Consumer Advocate community!
Do you have a Fabulous Frugal Find to share? Please send your stories and photos to nonconsumer@comcast.net.
Katy Wolk-Stanley
"Use it up, wear it out, make it do or do without"