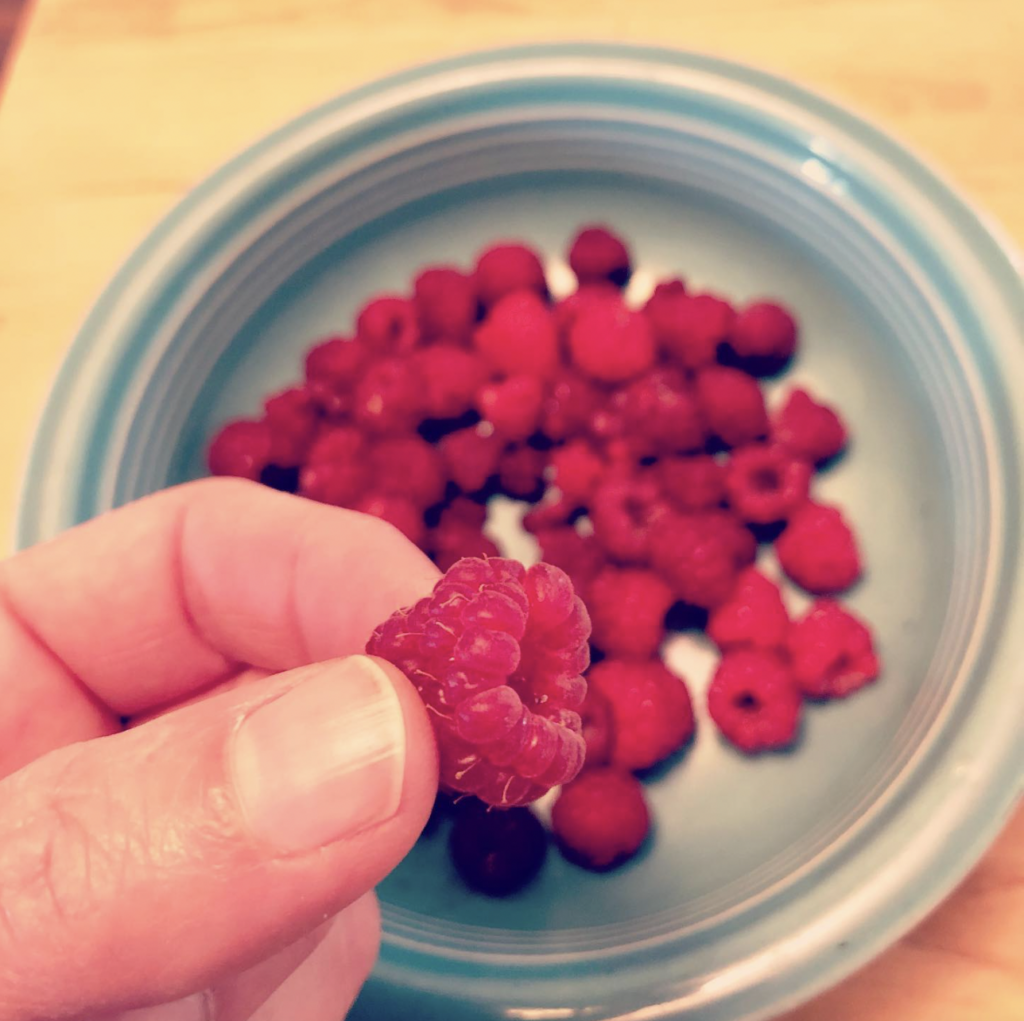 Although some of my frugality is impressive, most of it is just a series of small rather dull actions. Repeated ad infinitum. Drinking tap water instead of canned sparkling water or soda, cooking from scratch or listening to audiobooks instead of paying for an Audible subscription.
It's not news worthy. It's the stuff that usually doesn't even make it into a Five Frugal Things blog post.
But put all together, these tiny actions add up to a something sizable. I look back on the past couple of days and I like what I see. Nothing spectacular, but still worthy as a whole.
• I walked to the library to return a book that was due that day. I picked up a pony tail elastic along the route, which I later put through the dishwasher.
• My daughter stopped by on her way home from work and gifted me with two bakery muffins, a quart of skim milk, a container of fresh pasta and a bag of ginger snaps.
• I picked (and ate) raspberries from my yard. I planted them after a neighbor put out some free canes maybe ten years ago.
• I made sure to stop by Safeway to pick up a pair of two-pound Tillamook cheese loaves that were on sale for $6.67 apiece. These last forever if you're careful to only open just one at a time.
• I finished listening to Willa Cather's O, Pioneers and then started listening to My Antonia through the library's free Libby app.
• I took some ground beef leftover from a hamburger night and used it to make Cottage Pie Baked Potatoes. I saw the recipe on Instagram reels and amended it to conform with the ingredients I had on hand. Instead of the beef being enough for two hamburgers, it now made enough for six meals. (By the way, I added a can of tomato paste, plus a lot more herbs and spices. I also didn't bother oiling and salting the potatoes.) I served these on the evening of my husband and son's soccer game so no one would be tempted to splurge on takeout.
• We washed our filthy cars in the driveway instead of driving them through an automated carwash.
• I mended my son's sweater and got a couple stains out of a shirt.
• I defrosted a packet of fancy hotdogs that my daughter gave me a couple months ago from her schwanky grocery store.
• I drew calendar pages into the blank book that I'm currently using as a daily planner. I started doing this a couple years ago and it works great, plus I get much more than 365 days out of each book. It ain't pretty, but it's functional and cheap.
• I texted my friend Lise, to let her know I was stopping by Trader Joe's for 19¢ bananas and hummus. She asked for a can of coconut milk, which saved her a trip. I also let her know that Winco's coconut milk was $1.18 vs. $2.50 at Trader Joe's. (She's like me and also tracks prices.)
• I accepted a free plum at Trader Joe's, but waited until I was home to enjoy it properly.
• I'm letting a couple of backyard flowerpots sit empty as I patiently wait for some cuttings to root enough to plant.
• I made dinner for a neighbor going through hard times, but kept it simple. (Curry lime chicken satay with rice and a Caesar salad) I also picked up sale priced $2.77 Tillamook ice cream sandwiches for the dessert, but stashed them in the basement freezer so they wouldn't get gobbled.
• I didn't buy any fireworks.
None of these mini frugal actions will draw the attention of The Today Show, but they add up so much more than a kicky new frugal hack. Every day, under the wire, drinking my tap water out of a thrifted water bottle.
Katy Wolk-Stanley
"Use it up, wear it out, make it do or do without."
Click HERE to follow The Non-Consumer Advocate on Instagram.
Click HERE to join The Non-Consumer Advocate Facebook group.