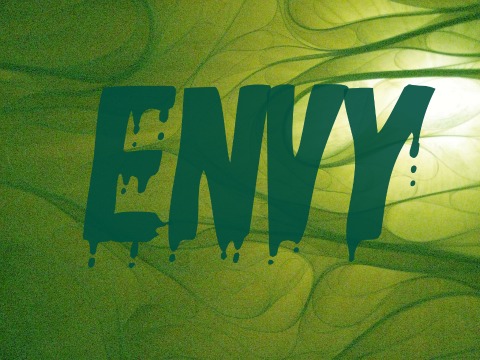 A thought provoking post was recently added to The Non-Consumer Advocate Facebook group in which Sarah shared this experience:
This was a tough weekend…. I was bitten hard by the jealousy bug! We visited relatives who seem to "have it all" – designer clothes, new cars, remodeled house, and I couldn't help it, I wanted a taste of that lifestyle! Of course I don't know what their financial situation is, but I know they work very hard. I have spent the last few hours reminding myself that our life is great (good health, good jobs, stable finances, beautiful kids, happy home life), and that no fancy car will make me happier in the long term. even when we have extra money sitting around (like now) we save or make extra payments on something. Anyone else feel a twinge of jealousy sometimes, and how do you deal with it? Maybe I'm the only one who feels that way?

I keep telling myself slow & steady wins the race, and I would rather have a paid-for house than new jeans purchased on a credit card . . .
The post was immediately replied to by multiple group members, varying in their responses. This is just a small sample:
Elizabeth:
I can tell you first hand that looks are not always what they seem. Our neighbors next door seemed to "have it all." They had a Jaguar in the garage and paid to have the entire yard landscaped immediately after the house was built, while we planted everything ourselves as we could afford to do it. Fifteen years later, they abandoned the house, and it was foreclosed on. The property was vacant for two years, so I'm happy to have neighbors who are taking care of it again, but unhappy that they paid so little for a house right next to mine.
Joan:
I think it happens to everyone. We have very dear friends who own 3 houses, a motor home and travel all winter. I don't begrudge them what they've earned. They did the work to have it. But sometimes, when I'm sitting on their deck, with the lake just 20 feet from their back door, I feel a twinge. But, then I think about how much upkeep 3 houses entail and I get over it.
Chris:
I feel jealous all the time, and my weakness is clothes because i care overly much about how i present, because I grew up poor in a wealthy area and everyone could tell by looking at me that we were poor. It's a hang-up, I know. But usually when I feel jealous, eventually I come around to what Joan said about the upkeep. That's not how I want to spend my time.
Andrea:
We have a town home that is feeling very small since we had our second child. I am having a hard time being content and really want a bigger house. Last week I decided that I need to focus my energy into making my current home beautiful, if not to get it ready to sell then maybe so that I feel at home again in this space.
Jessica:
When I see folks like that i just remember that they are most likely in debt up to their eyeballs and I am debt free. The peace of that far outweighs any fancy car, house or clothes! I'll just get those fancy clothes at a 90% discount after they have gotten tired of wearing them (after 3 wearings!) and sent them to Goodwill!
I know that I'm not immune to envy, probably none of us are. Although the cliché is to be envious of The Joneses' conspicuous consumption.
Fancy cars, gorgeous houses, designer clothes, glamorous vacations and let's not forget those super shiny stainless steel and granite kitchens!
My envy runs differently. I envy those who've been able to fully fund their kids' college funds, and those who can spontaneously travel without killing their financial goals. I envy people who can have an unexpected $1000 car repair bill without their stomach sinking to the depths. Or maybe it isn't envy at all. I just wish we were in the financial state to achieve that state of financial independence.
I'm perfectly okay with my formica kitchen countertops and my thrifted decor. In fact I derive great satisfaction in being able to cobble together exactly the look and function that I want from thrifted goods. Personally, I prefer a funky aesthetic. My wonderful $30 love seat gives me daily pleasure in a way that no $500 piece of furniture ever could.
I personally know of two friends who perfectly remodeled their homes and subsequently found themselves unable to afford the mortgage and were forced to sell.
I do not envy that.
I'm happy with how my family lives. We've prioritized family goals over career goals, and because of this we've been able to be at every parent teacher night, send the kids (and even chaperone) on school trips to Japan and attend almost every single soccer game. Yeah, it feels kind of awful to have teenagers without fully funded college funds, but for that to happen would have involved thousands of extra hours away from the kids.
Which would be nothing to envy.
Do you feel envious when spending time with friends and family who seem to "have it all?" Please share your thoughts in the comments section below.
Katy Wolk-Stanley
"Use it up, wear it out, make it do or do without."
Click HERE to follow The Non-Consumer Advocate on Twitter.
Click HERE to follow The Non-Consumer Advocate on Instagram.
Click HERE to join The Non-Consumer Advocate Facebook group.
Click HERE to follow The Non-Consumer Advocate on Pinterest.