Please note that this giveaway has ended. Congratulation to Karen C. and Diane Black!

Like many others, I'm a big fan of Gretchen Rubin and her writing. She hooked me with The Happiness Project, and has continued to draw me in with her subsequent books, Happier at Home and Better Than Before. Plus, she and her sister Elizabeth Craft also host a weekly podcast titled Happier with Gretchen Rubin, so it's damned near impossible to escape her influence. (Plus, as you can see we've had the opportunity to meet in person a number of times.)
To say that Gretchen Rubin is a disciplined and prolific writer would be an massive understatement. Then again, she is an "Upholder."
These four tendencies describe a personality framework based solely on whether someone meets or resists outer and inner expectations.
Here's a graphic for a visual reference: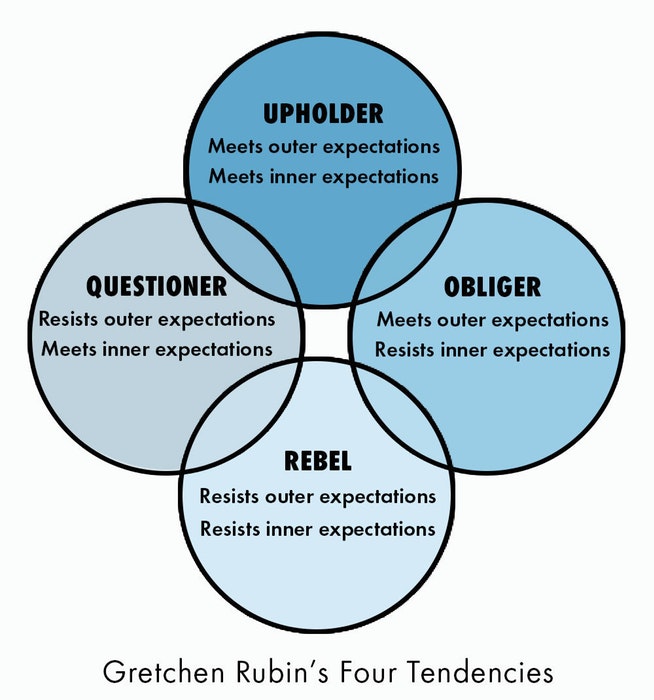 So for Gretchen to take on such ambitious projects is a natural fit. She's able to set and reach personal goals and then meet deadlines set by her publisher.
See that bottom circle, the "Rebel?" The one that reads "Resists outer expectation, resists inner expectation." That's me. And although "Rebel" sounds all James Dean and sexy, it's actually a huge pain in the tuchus to be that person. External expectations make me less likely meet my obligations, which is both illogical and personally frustrating. (I also suspect that I was a challenging child to raise.)
However, I think that being a Rebel is closely tied to a richly creative mindset. Because I have zero interest in going through life like everybody else, I'm compelled to reinvent each and every wheel. I don't let others' opinions hold me back from what I want, and I'm almost impossible to embarrass. I have a strong sense of self, but I have a terrible time with deadlines and self discipline.
Luckily, this book doesn't just focus on identifying your individual tendency, but explores motivation and what it means to meet or resist life's expectations. (Which Rubin clarifies is only a single aspect of what makes us tick.) Rubin also gives very concrete information about how to interact with and understand others' tendencies, which is important for anyone who's not currently a hermit.
There's an online quiz to determine your tendency, although I do have to confess that I've only skimmed it.
I could go on and on about this book, but instead I'm going to cut to the good part.
I'm giving away copies of The Four Tendencies to two lucky readers. Just write your name in the comments section below, and I will randomly choose the winners on Sunday, October 29th at 9 P.M. PST. 
Rebelliously yours,
Katy Wolk-Stanley
"Use it up, wear it out, make it do or do without."