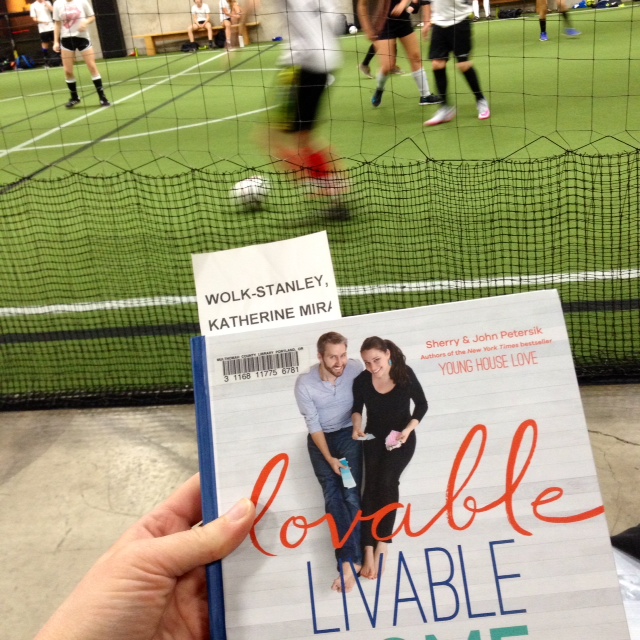 I took my son to his futsal/indoor soccer game last night. I brought a library book to read and tried not to look over at the in-house pub with its tantalizing smells. Maybe some day I'll be one of those moms with a pint of ale and a plate of artisan French fries, but that day has yet to come. #collegefund
I picked up a vintage folding luggage rack at Goodwill that I'll clean up to sell on Craigslist. I've seen them used with a tray on top for a cool makeshift table, and they sell for around $40 on eBay. I'm also going to clean up my husband's old yet unused accordion to list on Craigslist as well. #collegefund
My neighbors went away for the weekend to celebrate their anniversary, and asked me to look in on their cats. They later texted that there was a piece of chicken and half an avocado for me to take. They know me well.
My son was at a friend's house Friday night, so it was just me and my husband. I had a $9 gift certificate to one restaurant and a filled-up frequent buyer card to another. (It's where my father takes me to lunch.) I went ahead and got a single entree from each restaurant, which allowed us to feast on lovely, if somewhat disjointed takeout. A rare and very appreciated treat. The cost? Two bucks!
I didn't buy a Lear Jet.
Now you turn. What frugal things have you been up to?
Katy Wolk-Stanley
"Use it up, wear it out, make it do or do without."
Click HERE to follow The Non-Consumer Advocate on Twitter.
Click HERE to follow The Non-Consumer Advocate on Instagram.
Click HERE to join The Non-Consumer Advocate Facebook group.
Click HERE to follow The Non-Consumer Advocate on Pinterest.