The following is a reprint of a previously published post. Enjoy!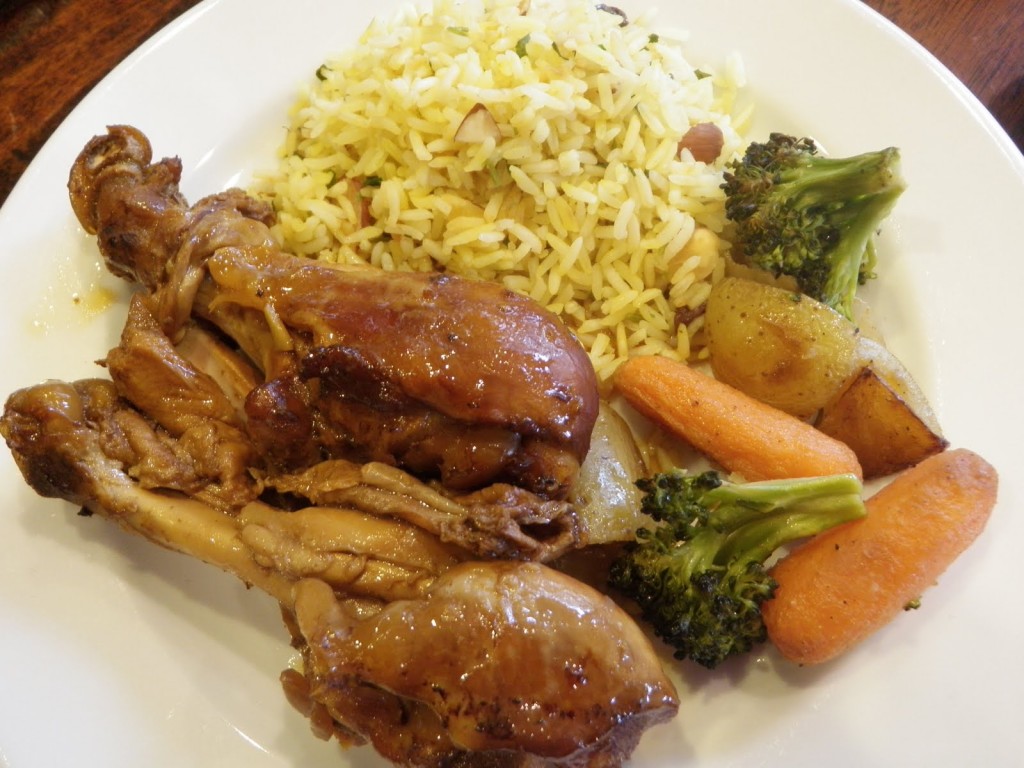 People ask me all the time which blogs I follow, and I always mumble a little something about Get Rich Slowly, The Frugal Girl, Modern Thrifter and then kind of lose steam. Sure, there are other blogs I like to look at, but not on a daily basis. But I have actually added a new blog to my circle, which is Lomomacooking: Cooking With Claire. This blog is put together by Laura and Claire, a couple of my co-workers and is full of fantastic family friendly looking recipes. Written by a "Half-Chinese midwestern farmer's daughter," the recipes are practical, yet far from dull.
Tonight I printed off a recipe for Chicken Adobo and got to work, or rather got to no work, as the hands-on time for this recipe ran around two minutes!
I really liked that this recipe called for thighs and drumsticks, which regularly go on sale for next to nothing. And since I use a rice cooker, (which I love and fire up at least four times a week) this dinner was easier to construct than an omelet.
C

HI

C

KEN ADOBO

You will not believe how tender and flavorful this chicken is.  The meat just falls off the bone. My kids loved pouring spoonfuls of the juice over their rice. I've heard this is good with pork, and if you wanted to do a vegetarian version, it would be good with tofu- just don't marinate it as long.

·     4-5 lbs. chicken thighs or drumsticks

·     1/2 cup white vinegar

·     1/2 cup soy sauce

·      4 cloves garlic, crushed

·      1 tsp. black peppercorns

·      3 bay leaves

DIRECTIONS

Combine all ingredients in a large pot. Cover and marinate chicken for 1-3 hours. Bring to boil, then lower heat. Cover and let simmer for 30 minutes, stirring occasionally. Uncover and simmer until sauce is reduced and thickened, and chicken is tender, about 20 more minutes. Serve with steamed rice.
Please try this recipe, then keep an eye on Cooking With Claire for more dinner inspiration.
Like to eat cheaply? Here are more Cheap Eats recipes:
Katy Wolk-Stanley
"Use it up, wear it out, make it do or do without."
Click HERE to follow The Non-Consumer Advocate on Twitter.
Click HERE to follow The Non-Consumer Advocate on Instagram.
Click HERE to join The Non-Consumer Advocate Facebook group.
Click HERE to follow The Non-Consumer Advocate on Pinterest.