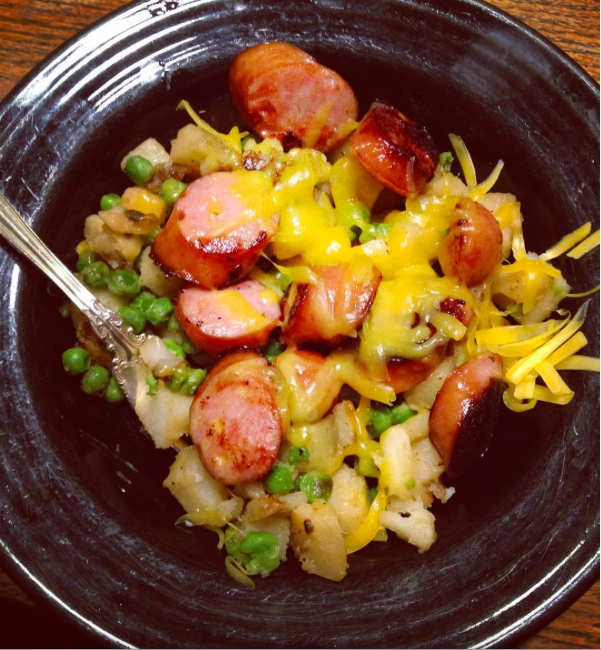 I prepared a dinner using the last of a bag potatoes, some defrosted Grocery Outlet sausages, peas, shredded cheese and diced avocado. Both frugal and delicious!
I had a childhood friend over this afternoon. Instead of going out for lunch, I served home brewed coffee and then ham and cheese panini sandwiches with a side of orange wedges. Also, frugal and delicious! (Okay, okay   . . . the sandwiches were prepared using my humble George Foreman grill, not an official panini press.)
I had the opportunity to stay at home instead of going to work yesterday, but called my charge nurse and told her I wanted to come in to complete some online education. I quickly got a laboring patient, but was given the opportunity to go home again after she delivered. I repeated my wish to stay at work, and someone else happily accepted her offer. My pushiness earned me hundreds of extra dollars. It would have been nice to cozy up at home, but work is the best place to go when funding a college account. Of course I brought a lunch of homemade leftovers.
We made the $7017 payment for our son's winter tuition, room and board, and were able to do so without borrowing a penny. Earning as much as possible, combined with extreme frugality is a powerful tool. (That reminds me, I should put some pinto beans into the crock pot for tomorrow's dinner.)
I didn't buy a Lear Jet.
Now your turn. What frugal things have you been up to?
Katy Wolk-Stanley
"Use it up, wear it out, make it do or do without."
Click HERE to follow The Non-Consumer Advocate on Twitter.
Click HERE to follow The Non-Consumer Advocate on Instagram.
Click HERE to join The Non-Consumer Advocate Facebook group.
Click HERE to follow The Non-Consumer Advocate on Pinterest.